Will his 'last-ditch-effort' at online dating bear fruit?
Posted by Leticia, 10 May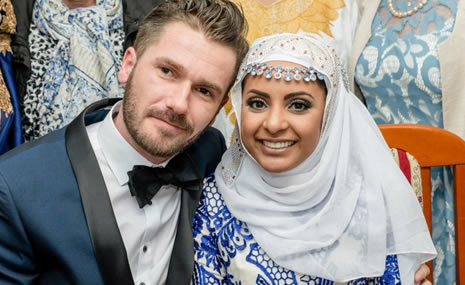 A certain dating profile with the handle "Lotus32" intrigued Sanel. Velda posted it on our site because her search for love had proven fruitless so far. "I was at my wits' end," she admits. "Your site was my first experience with online dating, but I knew I needed to do something different!"
Velda tells us that Sanel was also a newcomer to the Internet personals world, because he "gave up" on traditional methods and this was his "last-ditch effort" to find that special someone. "He loves black women and this site provided that," jokes Velda.
Find your soulmate on InterracialDatingCentral










Both were only members for a couple of weeks before Velda noticed Sanel's profile. Right off the bat, she knew this guy was her type. "He was definitely similar to what I had envisioned," she informs us. "I loved his profile because it was short and to the point. He was simple and eloquent with his words – not too much fluff and foam! So I reached out to him with a short message."
What really appealed to Sanel about Velda's profile was the love she professed for movies and travel. These were key interests for him, too, so her profile spoke to him. "A perfect match," Velda calls it. Sanel also appreciated his lovely lady's honesty, telling us, "She was very transparent about who she was, and her profile reflected that."
We asked the happy couple when they decided to make the leap from online chat to real-life conversation. "It wasn't rocket science," laughs Velda. "We enjoyed each other's company on Skype, so why not?" Sanel chimes in here, saying, "It was easy to make that decision because we laughed every day and enjoyed each other's company."
So how did this first date go down? "She met me in my country," Sanel says. Velda caught a flight so the pair could put their in-person chemistry to the test. From the jump Sanel felt confident that they were meant for one another. "She didn't change a bit, and we didn't miss a beat [from Skype]. There was really nothing to it!"
Before long the pair were officially an item, even back in their respective countries. They were having a Netflix date night on Skype when Velda realized this was something really special. For Sanel, it was another date night, one in which "she was doing calculus and I was painting a selfie she had sent me."
Obviously, the distance between them was an issue, but that didn't stop our story's artistic leading man from taking the next step… "He proposed in front of close friends and family," beams Velda. "It wasn't a 'production' proposal, but an intimate moment."
Now that they're engaged, the couple feel relaxed and excited about what the future holds. Being together has made Velda's life "easier and more enjoyable." As Sanel puts it, "Life is now a fresh breath of air. She is my queen and better half, exactly what I prayed for."
To close out our story, here are Velda's tips for singles on our site. "Be yourself, keep your criteria and maintain it. Don't lie on your profile, because you WILL get what you don't want!"
As for Sanel, he suggests that our members "be as transparent as you can, without divulging your entire life story until it's appropriate. Have safe fun!"
16 responses to "Will his 'last-ditch-effort' at online dating bear fruit?"
Leave a reply
You must be logged in to post a comment.