His Profile Convinced Her to Pony Up
Posted by Leticia, 03 Nov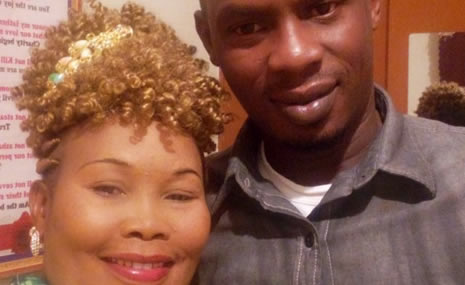 What made Rebecca join our site? "I was advised by a friend," she tells us. Henry has a similar story. "I heard it works, from a friend," he relays. Both were "100% confident" in the power of online dating to bring people together for lasting romantic relationships.
Rebecca initially chose a free membership and began searching through profiles, hoping that one would really speak to her. She says she became a paying member the moment she spied Henry's profile. "I just got interested," she explains with a shrug.
Find your soulmate on InterracialDatingCentral










"I got an email that someone was flirting [with me]," Henry chuckles. Turns out Rebecca sent him first a Flirt and then a longer message. Henry took a peek at her profile and it inspired him to respond. "She is mature and beautiful," he notes.
What Henry calls a "network failure" interrupted their early communication, but these two didn't get discouraged. Despite considerable distance between them, Henry soon paid a visit to Rebecca's town. Their decision to get together for dinner stemmed from Rebecca's very logical thought process. "It's important to see each other, then see how it goes," she says of singles taking things from the virtual realm to the real world. Henry seconds the motion. "After seeing each other, we can start to date and take our time to get to know one another."
Entering the restaurant, Rebecca remembers thinking, "He is polite and handsome. He's more handsome [than his profile]!" However, she still had to get her game face on… "I was not really prepared," she admits, "so I had to gather myself." Henry says that what was running through his mind in those initial seconds together was, "She is beautiful and open-minded. I just saw what attracted me in pictures. I was so happy!"
After their first date Rebecca was ready for more. "We're going to continue dating and see if we are compatible," she tells us. "We agreed that I will go visit him [next time]." "I invited her," Henry confirms.
Today Rebecca is "excited and happy" to see what the future holds for them. Henry says he feels blessed to have found Rebecca. "She is a really good person," he declares.
Here are Rebecca's words of encouragement for anyone on the fence about Internet personals. "It's really [simple] just, try it!" Henry is also bullish on this method of dating. "Don't waste time," he urges singles. "Hurry, your love is awaiting you… It's real."
So is the chemistry that Rebecca and Henry share.
10 responses to "His Profile Convinced Her to Pony Up"
Leave a reply
You must be logged in to post a comment.