A Lunch Date Led to Lifelong Commitment
Posted by Leticia, 20 Jan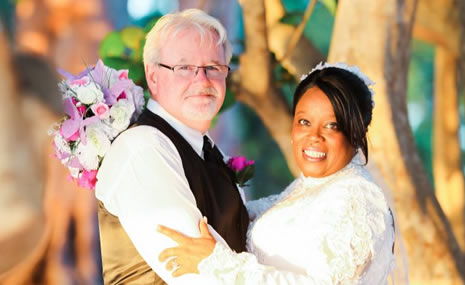 After choosing the usernames "QueenDee1964" and "Daddo2," Debbie and Fred met on our site, fell in love and got married! This is how they found each other…
Find your soulmate on InterracialDatingCentral










"I got tired of dating men from sites who just wanted to 'experience' dating a black woman," says Debbie, mincing no words. "Your interracial dating site helped me to find someone who was SURE they wanted to date a black woman, and the first actual date who showed up to meet me was the man I now know as my husband!"
Fred had been married before and his family felt he was ready to get back out there. "My kids thought it was time to meet someone special, so I tried the site and I thank you!"
Of course, at the outset, there were no guarantees they'd find "The One." Asked if she was confident, Debbie says, "I wasn't" and Fred's answer is "not at all." Confidence isn't required, just patience. Still, in a matter of weeks, Fred found Debbie's profile and became interested in getting to know her better. Here were Fred's impressions of Debbie's profile: "She was very sweet, beautiful and kind, very well put together and a Christian woman," he says.
It's funny, though, it did take him a few tries to get her attention! "Fred said 'hi' many times and I finally wrote back and said 'hi,'" laughs Debbie. She was immediately happy she did, enjoying their early conversations. "He was very kind and a great listener, established, and a true gentleman," she says of what impressed her most about him.
How did they make the jump to a face-to-face meeting? "Well, I asked her out for a lunch date, and she graciously accepted," Fred remembers. "He asked, and I made time," adds Debbie. "I wasn't sure it was going to work out, but it did!"
To make this lunch date happen, Fred had to hop on a plane. But he did so gladly. "We met first at the small airport near where I live," explains Debbie, "and then we drove to one of my favorite restaurants."
Never a bad idea to take a woman to a place where she loves to eat! From there the couple continued to click and the rest is history, as they say. Debbie and Fred got hitched and hope to have many more happy times together.
25 responses to "A Lunch Date Led to Lifelong Commitment"
Leave a reply
You must be logged in to post a comment.