We Couldn't Stop Laughing
Posted by Leticia, 02 Mar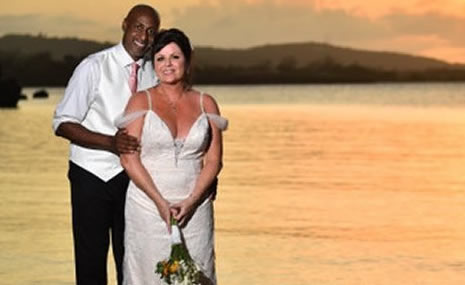 Gill was a member of our site for six whole years before meeting Sheldon, whom she would go on to marry. "This was the second site I tried," remembers Gill. "The first site did not have enough variety of races [for me]."
"This was my first experience with online dating," says Sheldon. "Dating online opens up a lot more options for people!"
Find your soulmate on InterracialDatingCentral










I was hopeful [that I'd find love]," Gill tells us. However, Sheldon confides that he wasn't so sure. "I wasn't overly confident," he says.
Still, just two weeks into his membership, something important happened in Sheldon's search for love. One day, he was perusing profiles and spotted Gill's, and it struck a chord in him. So what was it that really stood out to Sheldon about her? "Her smile and she appeared real," Sheldon responds. "Exactly my type." So he reached out to her via email…
After getting Sheldon's message Gill, naturally took a peek at his profile. She tells us that what prompted her to reply was the guy's "good looks" and air of authenticity. "He appeared genuine," Gill explains. Though Sheldon was "different than my normal type," as she puts it, Gill replied with anticipation.
Things progressed quickly from there. "We chatted on the phone for a long time and hit it off," Gill says. "We couldn't stop laughing," Sheldon recalls. "I loved her accent!"
The duo met up in Mission Viejo Lake, where they "walked and talked," says Sheldon. He remembers thinking that she was "very beautiful that day" and "her pictures didn't do her justice." Gill was smitten, too. She says her first thought upon meeting in person was, "He's gorgeous!" She adds, "We felt like we had known each other forever."
After this experience, Sheldon was "100%" convinced they would meet again. "We had so much in common," he marvels. Gill says that Sheldon's profile didn't tell the whole story about him, as it omitted "how kind and genuine he really was." On that day, both singles were struck by the realization that this relationship could have huge potential.
And it did. From there, they had few obstacles to overcome in their path to becoming a couple. "It came very naturally," reports Gill. Asked how finding love has changed her life, she says, "It has completed it." Sheldon's answer to that question is, "It has given me someone to grow old with."
Given the strength of their bond, it wasn't long before they looked to make the ultimate commitment to one another. Gill tells us how Sheldon popped the question. "He had a playlist of all of my favorite songs, and we danced to my most favorite, 'Perfect,' by Ed Sheeran. Then he got down on one knee and proposed."
Here's what this newly married woman would tell all the singles out there. "Be real," Gill reminds us. "Don't post fake, edited pictures or lie about your age or weight. It all comes out [in the end]."
Sheldon agrees with that advice. "Be honest and be yourself," he says. "Don't try to be something you are not."
What these two are now is happily married!
1 responses to "We Couldn't Stop Laughing"
Leave a reply
You must be logged in to post a comment.