He Told His Dad She Might Be the One
Posted by Leticia, 03 Jan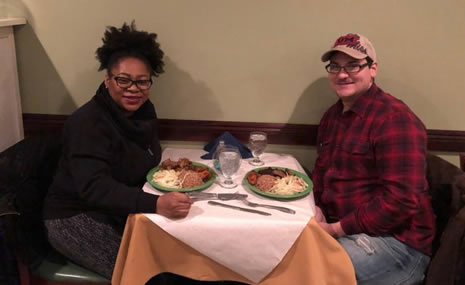 The love story of "Luxbabe" and "Ironhead469" began with the decision to date online, of course. "I've done it in the past," says Justine. "I met my ex-husband on a dating site, so I knew I could find love again. I was very confident!"
"I've tried conventional dating, and it didn't work out," admits Eric, "so I decided to try something different." But that wasn't the only new part about this adventure, for Eric. "I've never dated seriously outside my race," he confides, "and this was something that I've wanted for a very long time."
Find your soulmate on InterracialDatingCentral










Feeling "somewhat confident" about his prospects, Eric posted a profile with the aforementioned username (Ironhead469). A month later, he noticed a new member on our site: Luxbabe! Within three days of her profile going up Eric spotted it and decided to contact her. What was it about this gal that became a call to action for him? "It might sound cheesy, but her beauty," Eric tells us. "She looked very beautiful in her pictures!"
"He messaged and was very sweet and respectful," remembers Justine. However, Eric wasn't her type, at least not on the surface. "I've never dated a Southern boy, so this was all new for me," she reveals. That said, their communication was compelling and she found herself eager to proceed...
"After three weeks of talking and texting, I wanted to meet him in person," Justine informs us.
Eric also felt the time was right to get off the Internet and get on the road. "Our conversations were so down to earth," he says, reflecting on their early interactions. "We had a lot of similar interests and goals."
So Eric decided to take the bus (this was pre-Coronavirus) up the East Coast and meet his new ladyfriend in real life. "It was a very long and tiring three-day bus ride," Eric grumbles.
"I picked him up from the Greyhound bus terminal," adds Justine. "He traveled three days from Mississippi to New Jersey."
Justine can still remember her first thought when Eric disembarked from his bus. "He's really here!" she laughs. "I was just so happy, excited, nervous – butterflies and all."
Eric tells us he was immediately blown away by Justine's looks. "She looks so beautiful in person!" he exclaims. "I couldn't keep my eyes off of her."
After all that time on a Greyhound Eric was eager to spend time with Justine, and it was every bit as fun as he'd hoped it would be. "We had dinner and hung out the whole night, talking, just spending quality time together," Eric says. "We went out to eat at an Italian restaurant," Justine elaborates.
Let's hope the breadsticks were up to snuff! So what was most surprising about their first date? "That he traveled three days on a bus to come live in NJ so we can be together!" Justine declares. Eric's answer is, "That this was real and not a catfish, haha! I couldn't believe I left everything in my hometown to be there. But it was the best decision."
After spending this time together, any doubts the couple had were eradicated. Justine says she was "100% sure" their pairing could work out. "I mean, he moved here from Mississippi to be with me," she reminds us. "How could I not continue to see him? Plus, I was head over heels over him, and I still am!"
"I mean, no brainer there," chuckles Eric. "I left my home and family to be with her. I wasn't turning back."
Justine says that Eric's profile didn't hint at "his dedication and his humor," so these traits came as a happy surprise to her. "Her desire to do better in life, and her amazing cooking" were the main things that Justine's profile didn't capture, for Eric, but he's very appreciative of them now!
The road ahead was made rockier, however, by the fact that these singles weren't entirely single, yet – turns out they both had some important paperwork to file… "Finalizing my divorce was a huge obstacle, but I did it," recalls Justine. Eric says the biggest obstacles on his end were "finalizing my divorce and, unfortunately, leaving my friends and family [in Mississippi]."
For Justine there was no doubt it was all worth it. "After Day 1 I was truly invested," she says. Eric remembers the moment he knew this relationship could go the distance: "Home with my dad," he says. "I told him, 'I think she could be the one!'"
That certainty led Eric to pop the question. "It wasn't really a huge proposal," he notes. "I just told her I wanted to spend the rest of my life with her, if she felt the same way. She said yes and that was basically it. It was truly a great feeling!"
Justine marvels at how many benefits finding love has brought to her life. "It has made me the happiest woman," she tells us. "I can say that if it wasn't for this app I wouldn't have found my other half!"
Eric is pretty taken with Justine, too. "I now truly understand what falling in love is like," he says. "I found my other half. I'm glad I gave myself the courage to date online, which I'd never done. It was definitely a great decision."
Here are the couple's thoughts about online dating. "Patience," Justine advises the ladies. "There are a lot of guys out there looking for a one-night stand. You just have to stand your ground and find that special connection with a person."
"Give it a try," Eric urges singles everywhere. "You would be surprised to learn that you can meet someone you want to spend the rest of your life with! It's a journey I'm glad I took the risk to take."
Sounds like this journey is just beginning.
19 responses to "He Told His Dad She Might Be the One"
Leave a reply
You must be logged in to post a comment.