He couldn't believe she was real
Posted by Leticia, 08 Jun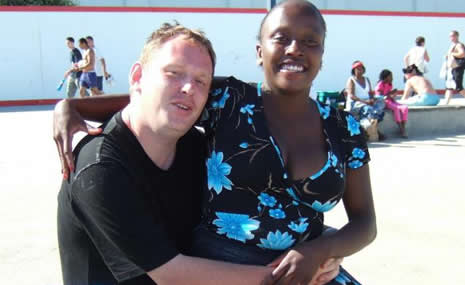 Deep down, Steven knew the only place to find his true love was on a niche site like ours.  "Other services just hadn't worked for me," Steven says.  Meanwhile, Imelda was also looking for someone special to share her life with.  A friend had success on our site and recommended it to her, so Imelda took the plunge.
Find your soulmate on InterracialDatingCentral










In this case, it was the woman who reached out to the man.  Something about Steven's eyes told Imelda that he was the man for her.  "It took me over a week to respond to her!"  Steven recalls, incredulously.  "I was reluctant at first to believe that she was who she said she was.  Her photos were so adorable, genuine and beautiful.  But shy: vulnerable, even."
Dreading disappointment but not wanting to miss a potentially once-in-a-lifetime shot at love, Steven called Imelda.  He remembers that call making quite an impression on him.  "I was hooked completely, head over heels in love at first chat!"
Before meeting in person, they spoke on the phone many more times and emailed constantly.  The couple met for pancakes as a first date.  Seeing Steven waiting for her with a huge bunch of flowers, it took Imelda several minutes to work up the courage to approach him.  "I was overwhelmed," Steven said of his thoughts upon seeing Imelda in person for the first time.  "When I saw her with her hair all done, dressed so fine, the most beautiful smile…I was speechless.  I just felt like she was out of my league."
Their meal turned into a walk, a picnic in the park, and a visit to a bar.  "We just sat together, falling in love so quickly and deeply," Imelda says.  This great date only set the table for many more.
Over time, Steven was delighted to discover the Imelda behind her shy reserve.  The Imelda that loves to giggle, to dance, and to take good care of her man.  "I love her joie de vivre, her attitude about life," Steven says.  "I still pinch myself to this day to check to see if I'm dreaming or not!"
Imelda agrees that their connection runs deep.  "The openness I have with him is something I've never experienced before," she says.  "There's nothing hidden, no secrets, we're just true to each other."
Today, the couple are engaged to be married and happily planning their future together.  They consider themselves best friends first, lovers second.  "We'll be supporting each other every step of the way, through good times and bad," promises Steven.
139 responses to "He couldn't believe she was real"
Leave a reply
You must be logged in to post a comment.