They forgot to order dinner the date went so well
Posted by Leticia, 24 May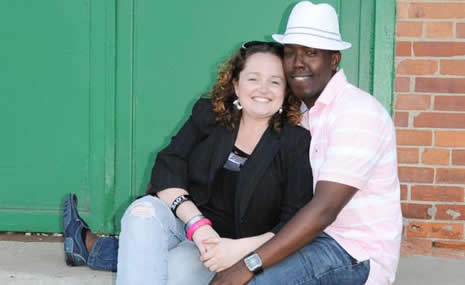 In Jennalee's experience, nothing good had come of meeting people in clubs and bars. For Robert, the mission was to meet someone who was truly ready for a relationship. And so, for both of them it made sense to try out online dating.
"One day, in between classes, I had just a few minutes and so I got on the website and started looking," says Jennalee. "I noticed Robert's profile and liked what I saw."
Find your soulmate on InterracialDatingCentral










Not only did Robert live in Jennalee's area, he had taken the time to take good pictures and write honestly about himself. Jennalee was intrigued, but she didn't have time to email him right away—she had to get to class.
When Jennalee logged in later that night...she was impressed to find a message from Robert already waiting for her! They began trading messages frequently. After two weeks and several phone calls, it was time to make a dinner date.
Jennalee arrived first and nervously awaited Robert's arrival at the restaurant. "When he walked in, I was instantly drawn to his smile," Jennalee recounts. Robert's own nervousness evaporated within five minutes of talking to her. They were chatting so comfortably when the waiter arrived that they could hardly manage to concentrate on menus.
"There was never a lull in conversation," says Jennalee. "We had a lot in common. I didn't want the night to end!"
Robert walked Jennalee to her car and told her straight out that he wanted to see her again. Three months later, the couple are still dating and say it feels like they've known each other much longer than that. "I've never had a relationship so wonderful," Jennalee reports. "He is very trustworthy and dependable, which are two things I think are very important. He makes me feel so special every day."
While they're still getting to know each other, Jennalee and Robert are also discussing the future and their common goals. "I am so glad I gave online dating a try and especially glad that I picked your site," Jennalee exclaims. "It was a wonderful experience and the website was very user-friendly. I would recommend the site to any of my friends who are looking for love."
49 responses to "They forgot to order dinner the date went so well"
Leave a reply
You must be logged in to post a comment.