They Fell for Each Other... Literally
Posted by Leticia, 17 Dec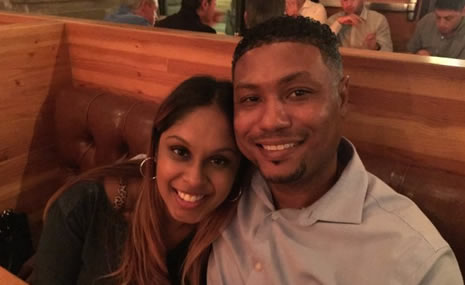 Melissa and Byron are now engaged, but not so long ago they were members of our site. Byron is happily surprised by how it all worked out. "Looking back, it seemed a little farfetched and unrealistic, what with us being a huge distance [apart], but we proved that it doesn't matter when you find love," he says. "When love HITS you, you will do whatever it takes to be with that person."
Initially, Melissa lacked confidence in the online dating method of meeting someone special. "I honestly didn't think I'd find anything here," she admits. "I was just trying it out!"
Find your soulmate on InterracialDatingCentral










Hearing that Melissa had such doubts, Byron chimes in. "I wasn't sure if I'd find 'my someone' here, but I thought it was worth a shot. I knew it was possible."
When they signed up, Melissa and Byron chose the unusual user-names "Meljagdeo" (Melissa) and "Romanlo" (Byron). So how did true love hit so hard? For starters, these two shared an interest in dating outside their race.
"I have always thought interracial love was beautiful," Melissa tells us. Byron says, "I wanted to find a woman who wanted me, beyond race. With other sites you aren't really sure if a woman of another race is into black men. Here, I could filter [profiles] to find those women who were looking for me."
Melissa has to admit she had it easy. She says it only took her "three weeks or so" to meet her future fiancé. "I lucked out, ha-ha!" Byron had to be a lot more patient with the process. He says he was a member of our site "around two or three years, off and on... Mostly off."
One day Byron was combing through profiles and noticed Melissa's. "She was so beautiful," he remembers, still impressed with her pics. "Something about her eyes and her smile… I just had to find out who she was, and if we were possible."
With that aim in mind, Byron decided to test the waters and see if there was any mutual interest here. "I reached out to Melissa via a Flirt, and she replied with a Flirt. Then I felt comfortable enough to send her a message."
What sparked Melissa's interest in Byron was the total package his profile promised. "He really seemed like a great guy who was serious about finding someone," she elaborates. "And he was super cute!"
That never hurts. Apparently their early barrage of messages built momentum quickly… "Our initial contact was pretty explosive" is how Byron puts it, adding, "We have the same expectations in every facet. It was unreal."
This being the case, the decision to meet in person seemed like a foregone conclusion to these two. "I knew she was special – very special – as we were talking on the phone before meeting," emphasizes Byron. "I knew I had to meet her. She was unique and truly the ONE for me."
Happily, Melissa was more than ready to meet Byron. "I adored him and just knew I loved him before we even met," she declares. "So I went to meet him in Austin." Byron picks up the story there. "She flew in from New York and we spent several days together: a weekend and change. We both love to eat, so restaurants were great dates! I think a first date should be more than just a one place meet-and-greet – I think it should be several places. But it doesn't always happen that way."
Just because both singles were excited to go out on a real date doesn't mean they had no anxiety about how it would go… Melissa confesses to worrying whether their connection would still be there once the screens were put away. "I was nervous! I wanted him to love me just the same as he had over FaceTime for all that time. He greeted me with roses and a charm, and I was just so at ease! He had the biggest smile when I first saw him."
Her date wasn't disappointed by the real Melissa who stood before him. "I thought she was even more beautiful and lovely in person," Byron recalls. "She was amazing and beautiful over FaceTime and in pictures, but there's nothing like seeing your love in person."
We like to ask couples what surprised them most about their first date. Byron and Melissa's answers are unique.
"We fell," says Melissa.
Byron explains. "Yes, we fell… Literally. Together! We fell while holding each other. Thankfully, neither of us got hurt and we could laugh about it. But we 'fell for each other' in a very literal sense... We hit the ground!"
Most couples we ask say they were "100%" sure they'd see each other again after their first date, and that's what Melissa told us, but Byron sets a new record with his response. "1000000000% sure!"
Even with a slam-dunk first date, there would still be problems to solve, however. "My dad doesn't want me to marry a black man," Melissa says with regret. Byron had his own family disapproval to deal with. "My family kinda didn't care for the age difference, but I let them know I dated plenty of women my age, and NONE worked out. So don't fail me before I even try."
As the lovebirds got to know each other, they learned things the other person's profile didn't capture. "He's very goofy," laughs Melissa. It's something she appreciates about him. Byron says, "She's the sweetest woman I know, the most genuine, nicest person."
All these discoveries only brought them closer together. "The more we talked, the more we realized how alike we were," notes Melissa. "Our profiles didn't spell it out!"
"Yes, we are like twins," agrees Byron. "Maybe it has to do with us both being left-handed, but we simply just get each other."
Byron was very much the man Melissa had hoped to meet, all along. She says, "He was my type all the way! No doubts!" That was true for him, too. "She was most definitely my type," Byron confirms. "Even better than I ever expected. She's younger, but she definitely surprised me in how she knew exactly what she wanted. Even so, there's people my age who still have no clue [about that], so age is just a number."
In keeping with the rest of this story, the way Byron proposed is a little unusual, too. "I asked her what her ring size was," begins Byron. "She told me, and then I told her I was going to marry her. She said, 'okay, let's do it!'"
The reason Melissa answered in the affirmative is obvious to her now – finding love has changed her life. "I'm happier than I've ever been," she says.
"I feel complete," Byron observes. "I've searched for so long and never found real love, never had much luck. Then, out of nowhere, she appears and is just everything I've ever wanted. I think love truly does conquer all. I'm in a really great place in life, and I can't imagine it without her. She's my stress relief!"
Here are Melissa's words of encouragement for all the single ladies on our site. "Be patient; it will happen. He will find you!"
True to form, Byron gives us a different answer than most people when asked if he has anything to impart upon our members. "I don't have any advice," he says. "This was totally unexpected. I can't begin to come up with some method to arrive here. It's LUCK and that's all there is to it. I'd tried and tried and tried again. Did everything exactly right, and I still failed. Then she came along and it was just meant to be. It's fate, luck!"
Some might say providence, persistence or perfect timing. Whatever you call it, it's something you can't control but can happen at any point. Maybe today, maybe tomorrow, maybe two years from now… But if you stick with it, chances are your time will come.
15 responses to "They Fell for Each Other... Literally"
Leave a reply
You must be logged in to post a comment.