Their Profiles Held Nothing Back
Posted by Leticia, 27 Sep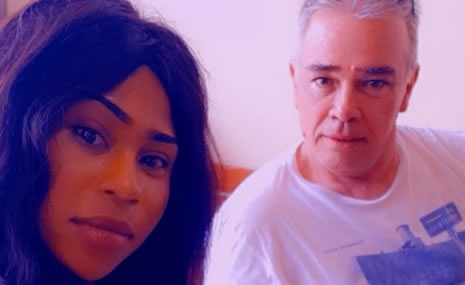 Now that she's engaged, Oghenemine makes this declaration about her fiancé Oliver: "He is all I have been looking for!" And Oliver tells us, "Finding love has changed so many things in my life. I never really had a type. I can say that she surpasses everything I have ever imagined. You tell yourself you want this or that, but when something special comes along, you are just blown away. She just took me by surprise, totally knocked me off my feet."
Oghenemine "was just giving it a try" when she posted a profile on our site. Five long years into her membership, Oghenemine noticed a new profile. Oliver's. "His honesty" inspired her to send him an email, she recounts. At that point, she says she "wasn't so sure [it mattered], because I had already given up [on love]."
Find your soulmate on InterracialDatingCentral










Oliver was an online dating newbie and not particularly confident about his chances at finding love. "I was not very inspired, but I gave it a shot," he laughs. "Your site was my first experience.
Not long, maybe less than a month [later], she messaged me and I knew right then (and still do) that the love of my life had just been sent to me!"
The reason Oliver felt so strongly right away was the power of Oghenemine's profile. He says that "the honesty she put in there, about wanting to find love, and no games, and about her daughter" really jumped off the page to him. "People can say they are honest all they want, but when you just have what is written, their words are important," adds Oliver.
From there it was all about getting to know each other. "We chatted a bit and thought we should get together," Oliver says of the decision to book a first date without further ado. "We just knew we had to, or at least I did!"
"We decided to meet at my favorite bar," remembers Oghenemine. Oliver picks up the story there… "We went to a local place she knew. I arrived first and when she got there I was just blown away. She is even more beautiful in person. My heart was racing, I was nervous. We sat in the center, in an air-conditioned area. We sat next to each other, talked about everything, held hands, and we even kissed. We knew other people were there and probably watching, but they didn't matter. It was just her and me, and it was amazing. We had a drink, ordered some food, and we just clicked. It was like we knew each other already and it was meant to be. It was beautiful. We haven't looked back!"
We asked the couple what the very first thoughts to enter their minds were, upon laying eyes upon each other for the first time in real life. Oliver remembers thinking, "OMG, she's so beautiful, even more beautiful than her pictures!" Oghenemine's first recollection is "he looks nice," and she adds that she was surprised by their "instant connection." Oliver agrees with that wholeheartedly. "I felt absolutely amazing inside," he says. "I don't believe I ever stopped smiling. When she held my hand, you could feel the electricity and it was real, genuine, and I never want it to end."
After this sublime experience both singles were eager to date again. "I KNEW that I would meet him again," says Oghenemine. "We were really sure we wanted to go out again," stresses Oliver. "We knew it wasn't a one-time thing. This is something honest and true, something you want for a long time."
Oliver soon found that his lady love's profile barely scratched the surface of her, as a person. "How she loves [did not come across]. She is a lot like me in that we only know one way to love: with all of your heart and soul. You can't get that in a profile. You have to be with them and experience that for yourself."
Of course, there were the inevitable bumps in their road to loving fulfillment. "We have both been deeply hurt from past relationships, so the trust issue [came up], Oghenemine admits. "It wasn't really an obstacle, but more something we had to overcome. We are a bit guarded with our actions, but by expressing our love for each other every day we are becoming stronger and stronger as a couple."
Oghenemine remembers the first time she realized this budding relationship could lead to a life-long commitment. "It was the second time we met, when he came down to my workplace, that I first knew deep down it was special," she says of her bond with Oliver.
That moment came even sooner for him. "Actually, it was during our first date," Oliver recalls. "You just know, deep inside. We talked that night when she got back home and we haven't stopped talking. When she is not with me I hurt inside. We have something that I wish for everyone. Love is an understatement, it's far more than just love… Sometimes you just know… your heart, your soul and all of you know. From that first date I knew, and I am even more sure today!"
Given the depth of feeling on display here, it's no shock that these two decided to marry. So how did the happy couple get engaged? "He proposed to me and put the ring on my finger in front of my church," relays Oghenemine.
Oliver couldn't be happier to take that step with her. "My life has a purpose," he says when asked what has changed for him since meeting Oghenemine. "Before it was like going through the motions, the same thing every day. Now, I have someone who truly and honestly loves me, and all I want is to make her happy and proud of what we have together. She is everything, now and forever, and it's up to me to not just tell her, but show her what she means to me, and how much I love her. It never stops but just gets stronger and stronger."
Here's their advice for all the singles out there. "Just be patient and believe in God," says Oghenemine. "Be patient, yours will come," Oliver assures us.
Even if it takes five years, as it did for Oghenemine, it's still well worth the wait.
9 responses to "Their Profiles Held Nothing Back"
Leave a reply
You must be logged in to post a comment.