That Blue Bikini
Posted by Leticia, 19 Oct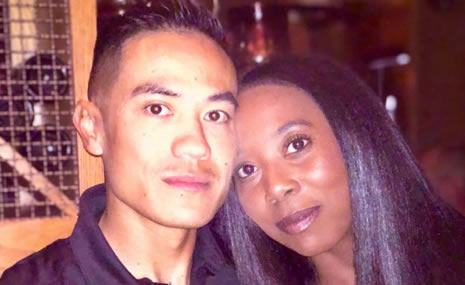 It's been years since Monique and Andrew met on our site, but it wasn't until recently that they had a chance to share their story with us. Today they're happily married with a son, but back then they were new to even the idea of online dating... "This was my first experience [with online personals]," admits Monique. Andrew nods in agreement. "I was also just trying something different from the norm," he says.
Were these two brimming with confidence when they posted their profiles? "It was just something fun," recalls Monique. "I didn't think it was a serious option, really." Andrew says that when he signed up he was "not very confident" that true love was in the offing.
Find your soulmate on InterracialDatingCentral










That makes it even wilder that just a few weeks after starting on this journey, Monique got a message from the man she would marry. "He reached out to me," she says. Monique took a peek at his profile, which had only been up a month or two at that point. "He was very handsome!" she exclaims. Both agree that the other was "very similar" to their perception of their "type" in a potential partner.
Andrew says it was Monique's pictures, and one in particular, that captured his interest. "That blue bikini and her body" turned Andrew's head, it seems! But their conversations confirmed there was more than physical attraction here. "We talked on FaceTime and wanted to meet," says Monique of their swift decision to take the next step. Andrew remembers, "I wanted to go visit her where she lived and take her out on a date."
That went rather well… "I took her to a hibachi restaurant for our first date," says Andrew. When he showed up in the flesh, Monique liked what she saw. "He was very sexy and muscular," she tells us. Andrew was thinking along the same lines, he says. "She was very beautiful!"
Apparently their chemistry was palpable. "He was very touchy feely for the first time," reveals Monique. Andrew is happy to explain further. "It felt like I had known her for some time," he says. Given the distance involved, the pair gave this date plenty of time to develop. "He came to my apartment and stayed a weekend," Monique relays.
She didn't want what they shared to end there, either. Asked if she was sure they'd see each other again, she responds, "Very sure!" Andrew tells us, "I asked her to be my girlfriend."
Getting together for future dates wasn't as easy as walking down the street, however. "With him being military when we first started dating, he moved away to Hawaii while I was still in Georgia," Monique notes. However, that only prompted her to take action. "About a year later she moved to Hawaii," Andrew reveals. That commitment was a quantum leap forward in their relationship.
It was around this time that Monique knew their connection was special, pinpointing that moment as "once we started living together after my move to Hawaii." Reflecting upon their relationship, it was obvious to her that "it has made both of our lives better."
Andrew felt the same way, of course. So he decided to bet on love… Monique remembers when and where her future came into sharp focus. "A day after our baby shower, we went to the mall, went into a jewelry store, and he asked if I wanted to get married right there on the spot… We picked out a ring. Non-traditional, for sure!"
Many things made it an easy call for Monique, but she wants to highlight some of her husband's good qualities. She really values "the way he has taken care of me and our son through these years. He also has a calm presence." Monique's many strengths continue to impress Andrew, as well. "She is a go-getter," he says. "I don't ever have to worry about her getting things done. And she's a good mom!"
Looking back on the lessons learned in her brief experience dating online, Monique wants readers to "be careful, because not everyone is who they say they are," and yet she also urges us to "have an open mind… I would never have guessed that I would find someone and end up married with a child almost six years later!" Andrew's advice to everyone is to "be open-minded and have fun with it."
8 responses to "That Blue Bikini"
Leave a reply
You must be logged in to post a comment.