Dinar and a Movie
Posted by Leticia, 09 May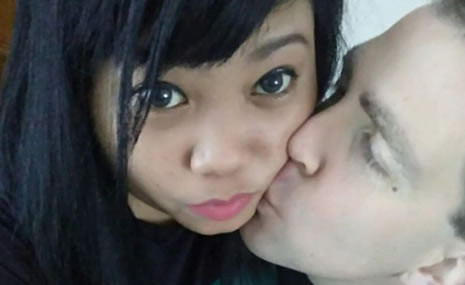 While Dinar and Teun were truly a match, meeting on our site wasn't all they had to do to live happily ever after. "He was not always optimistic about having a long-distance relationship," admits Dinar. But it soon became clear that this, or any other inconvenience, paled in comparison to the importance of love. It's well worth it!
"When he bought a smartphone specially to keep in contact with me, I knew it was special," Dinar tells us. Teun has a harder time pinpointing the moment he realized he'd let nothing stand in their way. "No specific time and place; it happened during the first month that we had contact," he recalls.
Find your soulmate on InterracialDatingCentral










One thing is certain: they savor the time they share. "Before, I had an empty space, and most of the time I was alone in my bedroom," Dinar reflects. "But now my life is completely full, and an exciting new life is beginning!" Teun says that this relationship has changed everything for him. "Having someone who is always there with me, and always cares where I am and what I do, is huge. I no longer plan my life by myself."
So what brought them together? Well, Dinar's decision to venture onto the Internet to meet her mate was based on a belief in good old fashioned "true love." Teun tells us, "I didn't want to do everything alone anymore." Neither were neophytes in the online dating sphere when they joined our site. Dinar was sure she'd find the love she was looking for, but she expected it to take time. Teun's hopes weren't as high. "I didn't expect anything at all," he admits. "My previous experiences had never led to dates."
Strangely enough, it's often the least confident people who spend the least amount of time on our site before meeting someone special. In Dinar's case, it took just one week of membership to hear from Teun, who'd been with us nine months. Teun sent Dinar a message to tell her that he liked her and to say that he would like to meet Dinar on her next trip to Europe.
Teun says he was impressed by "the spontaneous way in which she wrote about the trip she planned to the U.K., and the beautiful pictures she took." Still, given the distance between them, they didn't rush into anything. "We took eight and a half months to get to know each other through WhatsApp, and still liked each other very much," says Teun. "She is in many ways what I expect from 'my type', but a more direct person who doesn't hide anything. She says anything that is on her mind."
By then Dinar felt ready for that crucial in-person meet-up. "We have had very good communication since our first chat," she explains. So the next time she came to Europe, Teun was ready. "We met at the airport to take a trip together: three weeks through Europe." When he laid eyes on Dinar for the first time, he thought, "She looked sweet and beautiful!" Dinar liked that Teun was tall, kind, and handsome. Definitely her type! It didn't take long for her to find herself thinking, "He really cares about me."
From there the relationship developed smoothly. Teun really appreciates "how she wants to care for me, like cooking for me and putting her arms around me" as well as "all the effort she took to make this relationship work." His partner values "all the time he spends on me, even although he is busy."
Asked what suggestions she has for singles on our site, Dinar replies, "Finding true love is not easy – it takes time – but if you believe it, you will get it." And here's what Teun has to say: "See the possibilities in life, and don't tell yourself that online dating will not work for you. If some things don't work for you, do it differently next time, but don't give up on it!"
1 responses to "Dinar and a Movie"
Leave a reply
You must be logged in to post a comment.