Rats in the Park Kinda Ruined Their First Date
Posted by Leticia, 04 Feb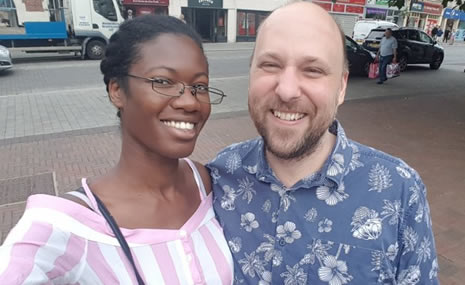 Ola is overjoyed to have met Dan on our site, but the truth is she almost called it quits after one date. "My word of advice to anyone reading this is to always give people a second chance if things start off well [before the date] and you feel a real connection with that person, based on their life philosophies, way of thinking, etc.," she recommends now. "People can be nervous on first dates and not act like themselves in the first instance."
Fortunately, Ola did give Dan another shot! But let's double back to the beginning of their story…
Find your soulmate on InterracialDatingCentral










Before meeting Dan, Ola had a vibrant social life but the romance was lacking. "I had lots of friends in the real world, but no guy friends who seemed the least bit interested in me," she laughs. "So I tried online dating. My first experience with it was through [a popular U.K.-based site]." However, it would take four years of looking before she met Dan when they were members here.
What Dan liked about Internet personals was "being able to meet people I normally wouldn't," he tells us. Dan was online dating for three or four years before crossing paths with Ola.
Ola indicates her confidence level, at the start, was "So so. I hadn't had much luck on other sites before this one, so I wasn't as confident as I could have been." Dan, on the other hand, was "quite confident. It was just another way of seeing people to me."
Ola wasn't even sure what she was looking for, in the beginning. "To be honest, I didn't really have a type," she reveals. "Physically Dan was my type I guess, but personality-wise I didn't realize he was my type till I got to know him."
When she noticed Dan's profile, it resonated with her. "I had been on the site for over three years, so I hadn't held out much hope of finding anyone," Ola informs us. "I was just browsing on and off. When I came across the profile of my now-super-amazing boyfriend, I felt his profile was so genuine and from the heart… Really in keeping with the way I lived my life. It was sincere and it painted a picture of a man who was loving, sensitive, patient and reasonable. He was a man of great integrity and sound judgment, something super important to me."
As impressed as she was by Dan's profile, when Ola reached out to him she didn't feel any certainty that this was the start of a great romance. "I was still not really in the frame of mind that he was 'the One' and I was already going through my second heartbreak, but I knew it would at least be worth sending him a Flirt," she confides. "He didn't respond for a while. When he did, he apologized for the delay and I was impressed by his thoughtful response. He responded with such depth and connection that I was amazed!"
The reason Dan replied was that he appreciated the work Ola had put into her profile. He commends her by saying, "It was detailed, and not too cliché." He notes that Ola was "very much" his type, too. This sparked an ongoing conversation that would become quite involved. "Our first communications were pretty slow, but really in depth," Ola recalls. "His intention wasn't just to meet me quick but to get to know me first, which I really respected," says Ola.
Though her interactions with Dan stood out from most conversations she'd had with potential suitors online, these two quickly hit a sizeable speed bump. "Funnily enough, Dan ended our first few message conversations with 'It's probably best that we don't meet each other,' due to our different outlooks on faith," Ola says. "I was specifically looking for a Christian (which Dan isn't) and there were a few things within the faith topic that didn't match up. However, this last message was still lengthy, written with a genuine interest in me, with some 'getting to know you' questions in it, so I was confused as to why he would put so much effort into a message if he thought we should end there."
With such a murky outlook for them as a couple, for a while it looked like that might be the end of it. "I didn't respond for a few months, due to the busy nature of work, and I also wondered if there was a point," notes Ola. "All the while, I was going through a lot of changes spiritually. I was also not finding anyone else with that same initial connection I had with him. I kept asking myself what it would have been like if I'd just talked to him a bit more…"
As time went on Dan started looking better and better to Ola, in hindsight. She realized she wasn't ready to let go of the possibility. "One day, in the midst of a busy summer, I just decided to message him again," says Ola. "My message was hopeful but also quite tentative. I would have been a bit disappointed if he had found someone, but still I ended my message with, 'If you have found someone, I wish you the best of luck. Any woman would be lucky to have you.'"
Ola eagerly awaited Dan's reply, hoping against hope for good news. "Thankfully, I received his reply and he was still available! I was over the moon! We continued getting to know each other by message for a few weeks and the commonalities just grew and grew! I was having such fun just messaging him that I knew I was going to like him in the flesh."
"Eventually, we moved onto messaging by text, then came our first date," Ola continues. "We'd been texting for a good month and every conversation we had just flowed! It felt so natural and I felt like we were ready to take the next step."
Dan had gone from doubtful about their prospects to wanting to meet Ola in person. "We had talked enough and learned enough new things about each other," he explains. "There were a few red flags, but we were able to talk rationally about them and after we decided we liked each other, we agreed on maintaining an open mind. So it felt natural to move to the next step."
So the pair agreed to meet in a public place, a small park, for their first date. There, they just enjoyed the outdoors and talked. That is, until a few furry residents of the park made their presence known. "The park we went to appeared to be a rat hotel!" laughs Ola.
Ola's first thought upon meeting Dan face to face was "that he was super-smiley and warm." She says she was surprised that the date "largely didn't revolve around food or drink," but this suited her fine. Dan's first impression was that Ola was very nice. In fact, he remembers thinking that she was "a sweet softy."
"I have to admit I was quite nervous," Ola says. "And, as far as first dates go, it was pretty standard. We met, we laughed, we commented and elaborated on subjects we had mentioned through text, and we had a quick drink in a bar afterward. I smiled and laughed nervously the whole time. I think he was a bit nervous too, so sometimes it felt a little awkward." From Dan's perspective that was nothing to worry about, however. "We had a few awkward silences that I actually felt really comfortable in," he remarks.
By the time they said farewell Dan was "very sure" they should schedule another date. "I told her at the end of the date that I'd love to see her again," he remembers. But, surprisingly, Ola was "not that sure" another date was worth doing. "I wasn't instantly feeling it," she confesses, "but I was willing to give it another go. Dan was so sweet though!"
Despite her ambivalence, Ola said yes anyway. She continues, "I wasn't about to throw away something that started off wonderfully! We continued to chat over the next week and our conversations by text were just as they were before: amazing! So we made plans to go to a street market and the park. If I'm honest, leading up to it I was very nervous. I wanted to tell him 'maybe it's best we stop because I'm not really feeling it.' I was anxious about the date, but somehow I mustered up the will to go."
Though Ola couldn't shake these doubts, fortunately, she showed up anyway. "My stomach was doing backflips even up to the point of meeting," she says. "In my mind, I was kind of thinking, 'maybe I'll just laugh my way through this date and then tell him at the end that I don't think it will work out.'"
Remarkable, isn't it, that Ola almost backed out? But everything turned in an instant… "It was quite crowded at our meeting point, so I had a bit of trouble finding him," Ola recalls. "After what felt like an eternity staring at the ground as I ruminated and worried, I looked up and saw his face beaming at me with a big, excited and friendly grin. My heart melted! I kid you not, every worry, concern and anxious thought disappeared in an instant and the only emotion I remember feeling was an absolute joy to be with him and that I'd get to spend the whole day with him!"
That must have been some smile! To this day Ola isn't sure what happened. "I really can't tell you what it was that changed," she muses. "It was still the same guy from the first date, but it was as if the magic of love somehow joined together the guy I was always excitedly texting to the guy in real life! It was the best feeling… And that second date was amazing! We chatted like we'd known each other forever. I fell for him totally."
From there the couple built momentum quickly. "Then there was a third date, and a fourth," Ola recounts. "And it was on the fourth date that we made it official as boyfriend and girlfriend."
Dan came to the same conclusion about their status "after one of our earlier dates, after realizing that every meet-up with Ola was special, whether we were chatting or just enjoying each other's silence." As a man of comparatively few words, Dan appreciated their capacity for comfortable silence.
The catalyst for Ola to put a label on this came when "I was walking home from work and got a text from Dan," she tells us. "He wrote me a super-heartfelt message describing every stage of our friendship and relationship thus far, and how it had made him feel special. I knew from that moment that he was going to be a very special person to me. He'd been writing that message for a while, but when he finally sent it, it was definitely the right time!"
Today Ola is sure glad she let this play out. "It's been three wonderful months so far, and I couldn't be happier that I followed through with my principle of allowing for more than one first impression. We've had so much fun together, getting to know each other more and more, and I only hope and pray there will be lots more ahead for us!"
And how did they resolve the faith issue? "At the end of the day we managed to talk about it and accept each other for the other's way of thinking," says Ola. "We haven't tried to sway one another into thinking a different way."
Dan says that "Ola's patience, calm nature, and supportive character" are some of his favorite qualities that she possesses. Ola very much appreciates "his thoughtfulness." Finding love has been a game-changer for her. "It's made me realize I can really be appreciated by someone," Ola marvels. "I never thought I'd have that in my life." Since meeting Ola, Dan has found his life is far happier. "I'm more relaxed, cheerful and have much more fun," he declares. "I'm also much more positive in general!"
Here is Ola's advice for all the singles out there. "Always give people a second chance if things start off well and you feel a real connection with that person just by their outlook on life, mindset, etc.," she says. "If I hadn't given Dan another chance despite first impressions, I never would have known how happy I could be!"
Dan hopes that online daters will "be encouraged" by the story he and Ola have told you all. Second, he wants everyone to "take profiles seriously" and reminds readers to "put effort into yours, and really read those of others!"
Thanks for reading this, by the way! It was long but hopefully worth it.
8 responses to "Rats in the Park Kinda Ruined Their First Date"
Leave a reply
You must be logged in to post a comment.