The Rain Couldn't Dampen Their Spirits
Posted by Leticia, 02 Mar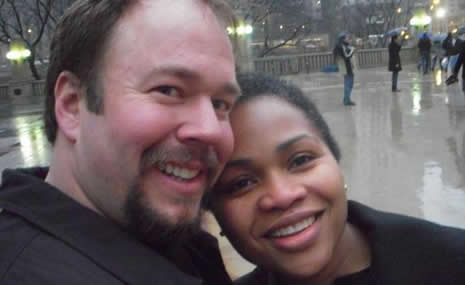 Matt and Phrasie knew their soulmate was out there, they just didn't know it was each other.  But that would change soon enough.  In 2009, Matt noticed Phrasie's profile on our site and liked that it was simple and straight to the point.  She had a similar reaction to Matt's profile.  Initially, their conversation was friendly but not romantic.  Their discussion touched on a number of topics, but dating and finding love weren't among them.  Still, both felt a bond forming.  A date was definitely in order…
Your perfect partner could be online right now...
What are you looking for?
One day, Matt left his home in Wisconsin to meet Phrasie in Chicago at around 2 p.m. in the afternoon.  "He said, 'you are so beautiful,' Phrasie remembers of their first moments together.  "And I said, 'you are too!'  We were comfortable with each other pretty quickly."
It was a rainy day, but the pair decided to walk around downtown Chicago and see the sights.  After Saturday afternoon mass at St. Peter's, they went to dinner.  Then, on another walk, they passed a movie theater playing Slumdog Millionaire and decided to go in.  At midnight, Matt and Phrasie finally said good night and put an end to this marathon first date after 10 hours together.  It was all very spontaneous, but both had a great time.
Fast forward to September, 12, 2010.  Why makes that date important?  It was Matt and Phrasie's wedding day!  The couple declares that their future plans are to start a family together.  "We make each other happy!" Phrasie declares.  These two may not have started out romantic, but they certainly ended up that way.
117 responses to "The Rain Couldn't Dampen Their Spirits"
Leave a reply
You must be logged in to post a comment.