One love for a lifetime
Posted by Leticia, 25 May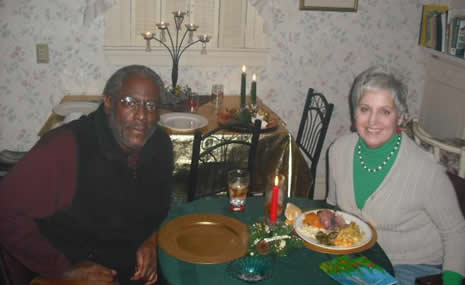 Joy was a busy career woman who tried to suppress her loneliness for as long as possible.  She told herself that she didn't have time for fun and dating because there was always more work to be done.  But over time, thoughts of the life she wanted kept running through her mind.
Unable to ignore her happiness any longer, Joy bought an online dating membership. After looking at one dating profile after another, she came to understand just what she was looking for in a relationship.  Finding something meaningful became a priority for her.  "I was looking for an articulate, intelligent profile," Joy says.  "Someone as serious about sealing the deal as I was."
Find your soulmate on InterracialDatingCentral










Isaac was also ready for a commitment.  This came through in his profile, which had the heading "One Love for a Lifetime."  The essays presented Isaac's belief that the secret to an ideal romantic partnership is teamwork.
"His profile was carefully written and edited," Joy notes.  "Even spell-checked!"
The pair now considers their anniversary the day Isaac first sent Joy a rose, though they did not meet in person for another nine days.  Over that span, they shared a feverish email correspondence that fanned the flames of courtship.  "Now, when I read those early emails, it's clear that we fell in love even before we met," Joy says.
On the tenth day, it was time to stop writing emails and talking on the phone.  The time had come to see if their chemistry carried over to real life.  Happily, Joy was impressed with Isaac from moment one.  "I saw a tall, distinguished man with beautiful eyes, and the ability to communicate from the soul," she recalls.  They talked for over an hour, looking into each other's eyes the whole time.  Their ensuing dates were very much the same, or better.
Today, the couple reports that they spend every waking and sleeping moment together except when they are at work.  "We cook dinner together, do laundry together, go to flea markets together, have yard sales together…" Joy laughs.  "We are unofficially engaged and expect to make it official very soon."
Any two people must adapt to one another's lifestyles in order to fully mesh as a couple.  Joy and Isaac were more than willing to do that, and it looks as though their commitment might sustain a lifelong love.
99 responses to "One love for a lifetime"
Leave a reply
You must be logged in to post a comment.