Not All the Fireworks Were in the Sky
Posted by Leticia, 21 Jun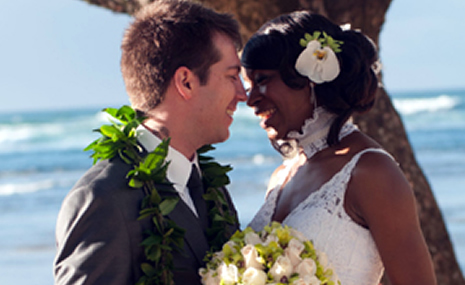 Today, Narobi and Jean-Francois are happily married. But not so long ago, they were sad singles without the sense that something special was in store for them. "I was tired of all the disappointments from regular dating," admits Narobi. "I tried other sites, but yours was better."
So she created a profile and waited. For three months, nothing happened. Enter Jean-Francois. He too was down on his luck in love. "I was not confident at all," says Jean-Francois. "I thought it was all fun and games [online]. I was not looking for love, more for friends."
Your perfect partner could be online right now...
What are you looking for?
But he found more than a friend in Narobi. Just a week into his membership, Jean-Francois noticed her profile. She had an unusual username. "I emailed 'cherrykee,'" says Jean-Francois. "She was very beautiful and seemed easy going. She is very similar to what I have always liked, but very different from me."
Receiving the email, Narobi looked up Jean-Francois' profile. It's not that he was unappealing, but nor was he exactly what she expected from her future husband. She says Jean-Francois was "not at all similar to what I thought I liked. The complete opposite, to be honest! But it turned out to be exactly what I needed."
Intrigued enough to see where this went, Narobi replied to the message and the pair began a correspondence. That went well. "We were texting a lot, so I figured it was time for a real date," Narobi explains. So they spent some time together in the flesh. One thing that really impressed Narobi was her date's manners. "He was a true gentleman. Very nice to talk to… and to look at! It was the 4th of July, and sparks were in the air immediately. I was very sure we would go out again."
It wasn't just Narobi who felt the fireworks going off between them. The date didn't disappoint Jean-Francois, either. "She was very beautiful! The conversation just flowed for hours. She was so easy to talk to. I had the feeling we'd known each other for a very long time."
One thing Narobi didn't pick up from Jean-Francois' dating profile was his way with words. She singles out for praise "his ability to communicate, even though we are from two different parts of the world."
While Jean-Francois was pushing his vocabulary to the limit, he acknowledges that Narobi was a receptive listener. "Narobi was very patient and understanding of me having a different first language," notes Jean-Francois.
The more the couple got to know each other, the more they were able to overcome their cultural differences. They developed a connection far more profound than mere language can convey. In time, Narobi and Jean-Francois made the decision to cohabitate. "After we moved in together, I got down on one knee in our living room and asked her to be my wife. She accepted, making me the happiest man on Earth. It's the first time in my life that I have known real love. The love that we have is awesome, great and unexplainable."
"I never knew real love existed before him," adds Narobi. "But now I'm living my fairy tale life."
We asked Narobi if she had any encouraging words for the singles still on our site. "Yes," she replied. "If you're looking for real love, this site is the place to find it!" Jean-Francois chimes in, "This is where I found my true love!"
177 responses to "Not All the Fireworks Were in the Sky"
Leave a reply
You must be logged in to post a comment.