Her birthday gift: a soulmate
Posted by Leticia, 11 May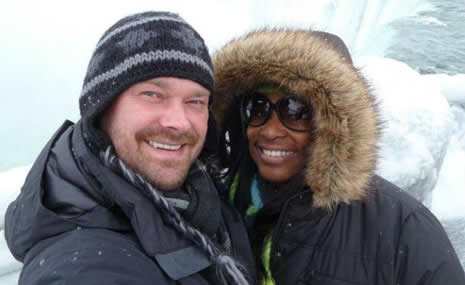 Shannon saw online dating as a way to get to know people she wouldn't otherwise meet.  She signed up on our site to explore those exclusive opportunities for love…
Geir sent Shannon a Flirt all the way from Norway.  He was definitely someone she wouldn't otherwise meet, and for good reason.  Talk about your long-distance relationship!  "I was really reluctant," Shannon admits.  "But he was so genuine and persistent that I was bowled over."
Find your soulmate on InterracialDatingCentral










Despite the difficult circumstances, both singles saw the promise of something special here.  As they began communicating via Skype, Shannon and Geir started to realize that some relationships don't need to make sense to be worth pursuing.
To put that theory to the test, they met in New York City.  Their first date happened to fall on Shannon's birthday.  "From the moment I saw him in person, I knew it was meant to be," Shannon declares.  "I thought he was so gorgeous!  Great smile, sweet kisser…a sweet, sweet man."
Shannon says that the powerful magnetism between them was just the final piece of evidence that love would transcend geography in this case.  "We both just 'knew,'" she says.  Geir's honest nature also stood out for her.  "He's not just a 'talker.'  He walks the walk!"
Shannon and Geir were married on September 3, 2010.
212 responses to "Her birthday gift: a soulmate"
Leave a reply
You must be logged in to post a comment.