He Came Off Harsh in His Profile
Posted by Leticia, 28 Mar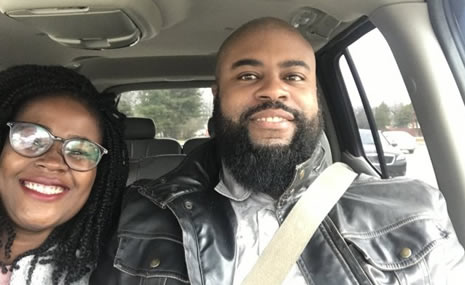 Now that Aoaní and Demond are happily hooked up, they wanted to tell their story and offer some encouragement to the single people reading this. "Don't wait for love to find you, act," Aoaní advises those in search of a soulmate. "If you don't talk with people, how can you know when the perfect person for you comes along? Trust your feelings, though. If you feel it is a big effort to chat with a person, that's probably not the right one!"
To piggyback off that point, Demond contributes his own insights. "You definitely know within the first few messages if you click or not," he observes. For him, "one-word answers to paragraphed questions are an instant turnoff." He also wants everyone to know how he met Aoaní. "Ladies, don't be too afraid or too proud to message a man first!"
Your perfect partner could be online right now...
What are you looking for?
It sure worked for these two. Aoaní and Demond had different reasons for dipping their toes in the online dating pool. "I joined the site out of curiosity, because I wanted to open myself to new possibilities," says Aoaní, or "Afrolinda" on the site. "I had tried other dating sites before, but always quit some time later."
Demond says it was his "dreams of finding a woman from abroad" that motivated him to post a profile on our site (username: "Rainy-Nites"). "I did use an international dating site once but found out people needed lots of money and ties to home in order to get visas. I was very discouraged."
Neither person was particularly optimistic about their odds of meeting someone special this way. And Demond's profile was up for two years before Aoaní joined us. Three weeks later, "Afrolinda" reached "Rainy-Nites" via chat. "I found the sweetest eyes I've ever seen," she says to explain her decision to contact him. Demond responded because he liked "her hair and the fact she was African."
Their connection was instantly evident, even in online chat and phone calls. "The way I feel every time we chat, like a teenager in love" convinced Aoaní to go out with Demond in real life. "We have a similar sense of humor," says Demond. "Enough to enjoy each other in person."
Given that she lived in Africa and he did not, their first date required that traveling be done. It was decided that she would visit him in Ohio. As Aoaní remembers it, "We met at the airport after an 18-hour plane trip. First thing, we hugged." Her first thought upon meeting him, face to face, was "that he seems somehow different, but the sweetness of his eyes remained! And I love his beard." Demond says his "first thought was, 'wow, she's tall, and even cuter than her pics!"
It surprised Aoaní "that I feel as though we knew each other from another life." Demond seconds that notion. "We got along as if we'd been together for months," he says, still amazed by this fact. "Things were so natural!"
After that, was Aoaní certain she'd like to date Demond again? "100 percent! Not that we had other options anyway, haha. But he was the kindest man I'd met in years. I was impressed." Here's how he felt about it. "We had no choice but to go out again," he declares. "It was a week-long date I will never forget. I get butterflies thinking about it daily."
Based on the impression she got from his profile, Aoaní was happily surprised to learn that there were more layers to Demond's personality. She appreciates "how dedicated to his partner he can be. He is gentle and kind, and that profile is a bit harsh." He tells us "she was more calm than I expected." He also likes that she is "independent but relies on me physically and emotionally."
We asked if that made her Demond's type, or if she differed from what he thought he was looking for. "I though we would be total opposites and not similar at all," he says. Aoaní shares her own point of view on this: "Mentally, we're a perfect match. Physically, we're completely different. I had always dated skinny men and I thought that was my type. I was wrong!"
We asked the couple what obstacles they had to overcome in their relationship. "An ocean!" Aoaní answers immediately, laughing. She realized what they had was special when their first week together was ending and she didn't want to leave him. "At his home, packing to come back home" she felt surprisingly strong emotions. Demond knew they might make a bigger commitment "when she met some of my family and they were really impressed." It required patience and planning, he says, but they're going to solve the problem that distance poses.
Aoaní says that finding her man has "made me happier and less work focused." Demond tells us it's made him "realize there is such a thing as falling in love."
2 responses to "He Came Off Harsh in His Profile"
Leave a reply
You must be logged in to post a comment.