A Big Bet on Her Birthday...
Posted by Leticia, 12 Dec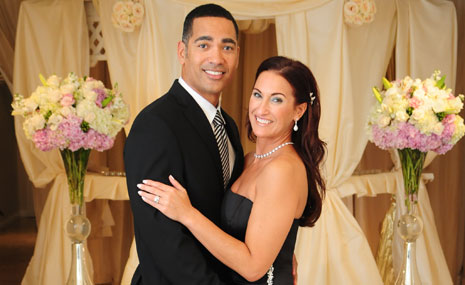 Rich was coming off a relationship that didn't go the distance, but it didn't convince him to give up on love, either. "I had decided to come back into the dating world," he says. "When I returned to the site and was looking at profiles, I ran across a picture of a woman… It was as if my heart melted."
Rich confides that it was "somewhat strange," but it really felt like the woman in the picture was looking only at him. Her screen name was "IM Kitten." But there was more going on here than animal attraction. "As I read her profile, I found she shared the same interests, etc.," Rich elaborates. "More than any other woman I had read about."
Find your soulmate on InterracialDatingCentral










After more than a year on the site, Rich had never felt this way. He was confident that he would meet someone on our site, but he didn't expect anything like this. What transpired over the next few weeks was like something out of a movie…
Before we get to that, let's meet our leading lady. Lori (aka IM Kitten) was serious about finding a long-term relationship. She decided to try online dating because it was "the best way to really find out about a person's interests, character, goals and values," she explains. When, after a month on the site, she received a flirt from Rich, she found that his profile spelled out all his wants and needs. "I thought his profile was of substance... It was different, and well thought out."
But that wasn't all. The physical component was there, too. "I thought he was the best-looking guy I had seen on this site, hands down," Lori reveals. "I was blown away that he even sent me a message!"
Rich continues the story from there. "I sent her a flirt, and she reciprocated. So I sent an email, and she replied." Did that go well? Here's Lori. "From the very first email exchange, I felt our connection was unlike any I had experienced," she says.
As much as this romance felt preordained to Rich from the moment he laid eyes on Lori, their first phone call was pivotal. Things could go either way at that point. Fortunately, there was never any doubt. "From the moment the first words left her mouth, I knew this woman was 'The One,'" he says. "I've only had this feeling once in my life, and it turned out to be a 14-year marriage."
In fact, things were going so well that Lori decided to spend her birthday with Rich—and that birthday was a big one. "We drove to Vegas to celebrate my 40th birthday!" exclaims Lori. As first dates go, this was a big step—but it felt right for these two. And sure enough, the chemistry continued to grow. Exactly what happened in Vegas will stay in Vegas, but suffice it to say these two gambled on love and won big.
As their relationship progressed, Rich and Lori made arrangements to reduce the distance between them from 3000 miles to zero. Lori moved from Washington DC to California. She hasn't looked back! "I always thought I would have to sacrifice certain things in a life partner, until I met Rich," says Lori. Not only is he everything she hoped to have in a man, she has the utmost respect for "his values as a parent, friend, teacher, son and brother."
Rich says that Lori's upbeat energy "brings out the best in all who meet her." He adds that they think so much alike, they often finish each other's sentences. "We just 'vibe' perfectly together," he says. "She makes me want to be a better man!"
It should come as no surprise to hear that Rich and Lori were married in Los Angeles on October 29, 2011. Lori is still on Cloud Nine. "He has made me the happiest woman in the world!" she says of her new husband.
Rich says that he wants to grow old with Lori. "Thanks for the beginning of a new life," he tells us.  All in a day's work, Rich!
183 responses to "A Big Bet on Her Birthday..."
Leave a reply
You must be logged in to post a comment.