Wine and Chocolate Will Impress a Lady
Posted by Leticia, 30 Aug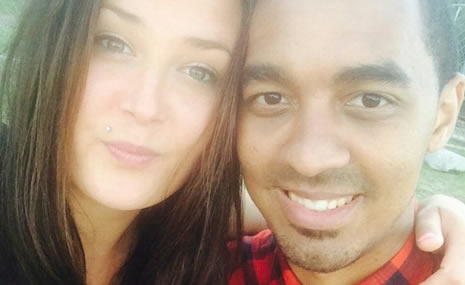 When Rebecca joined our site, she was following in a new family tradition. "My sister met her partner online, so I thought I would give it a go," says Rebecca. "This site was the second one I tried."
When Roscoe signed up, he was aiming high. "I was looking to meet somebody and eventually find the woman of my dreams," admits Roscoe. This was his second experience with online dating.
Find your soulmate on InterracialDatingCentral










While Rebecca was "not very confident" when she posted her profile ("Miss_Becky" was her handle), Roscoe was pretty sure he'd find somebody special. They actually signed up around the same time; a week after Rebecca joined and two months after Roscoe did, the digital sparks began to fly.
Roscoe (aka "MixedNSweet3") reached out to Rebecca via email message because her profile really spoke to him. The "photo was the first thing" to catch his eye. "I was impressed by how beautiful and sweet Rebecca looked," says Roscoe.
Once they started communicating, it was Rebecca's turn to be impressed. "Roscoe was very well spoken, and he was very respectful," she tells us.
What made them decide they were ready to meet for a date? "We had been chatting online for awhile and then spoke on the phone," explains Rebecca. "We just couldn't wait to meet and get to know each other better."
Roscoe's perspective on that is pretty similar. "We were messaging for awhile and it just got to the point where I felt it was time to meet and take her on a date," he says. "I really appreciated how honest and friendly Rebecca was."
When the day of their date rolled around, Roscoe started scoring points with Rebecca right off the bat... "When Roscoe picked me up from my house, he arrived at my door with chocolate and wine," exclaims Rebecca. It was a gentlemanly move, but his efforts were not in vain. "My first thought when Roscoe knocked on my door was that he was very handsome and sweet for bringing gifts. I was impressed." Roscoe says he will never forget "how beautiful she was in her dress and how amazing she smelled."
Their magical afternoon was just beginning. "We went for lunch at a nice Italian restaurant on Lygon Street and finished the date with a walk in a park overlooking the city," continues Rebecca. "It was the most amazing feeling meeting him for the first time!"
Let's get the male perspective on this. You have to be feeling pretty good about someone to bring them gifts on the first date, and Roscoe sure was. Making the lady feel special was his mission. "I met Rebecca at her house with gifts on arrival, then took her to one of her favorite restaurants, where we had a nice lunch," remembers Roscoe. "I couldn't wait to kiss her, so when we left the restaurant I asked her for a kiss and it was amazing!"
While they expected to pick up where they'd left off on the phone, it still surprised them how well they got along in person and how fun their day together ended up being. Saying farewell was bittersweet. "I was sure I wanted to see Roscoe again," says Rebecca. Roscoe couldn't wait. "I was already thinking about it," he laughs.
As they got to know each other, they realized the only thing in their way was one long road. "The main obstacle is the distance," laments Rebecca. "We live about an hour away from each other."
Still, there's no way that's going to stop them. More dates were shared and new memories made. "On our third date, we spent an afternoon watching the sunset on a hot summer night on the beach," Rebecca reminisces. "I just knew he was amazing and this was becoming something very special."
"There are countless moments when I knew this relationship was special," agrees her man. "We had some of the most incredible dates I have ever been on! I knew she was someone special when I asked her to be my girlfriend on Boxing Day."
Rebecca never wants this feeling to end. "Finding love has made every day just a little more special, like when I wake up to amazing text messages every morning. It's the little things Roscoe does that make life better every day!"
Roscoe says that Rebecca brightens every day of his life, too. He feels very fortunate. "It's just incredible knowing there is somebody who loves and cares about me!"
Rebecca wants readers to know that finding a match takes work. "I was lucky on this website; I found Roscoe quick, but I had been on other dating websites where you had to be patient and put time into chatting to meet genuine people. Not everybody wants what you want, but in time you will meet somebody special and it will all be worth it!"
Roscoe also preaches patience, acknowledging that he and Rebecca were very lucky to meet so quickly. "Don't expect to find somebody who shares your interests straight away," he says. "People on dating websites have different interests and it takes time to meet that special somebody."
But the reward can be spectacular, as Roscoe and Rebecca will attest.
2 responses to "Wine and Chocolate Will Impress a Lady"
Leave a reply
You must be logged in to post a comment.