Who Needs Beauty Rest?
Posted by Leticia, 07 Oct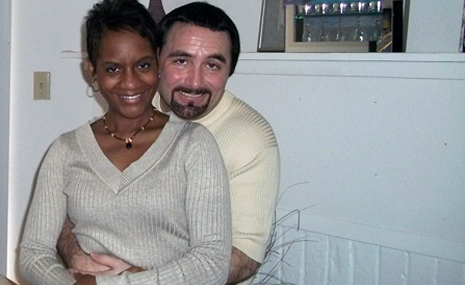 Linda took a look at Michael's profile and liked what she saw. "I reached out to him with a 'let's go for coffee' Flirt," she remembers. Today they are married! Linda saw something in Michael that others had missed, what with so many options to sift through online. "Fortunately, he was overlooked," she says. "He was a man looking for love and I was just the one to give it!"
Michael was stoked to see that his profile had pulled her in. "I thought she was out of my league," he reflects, frankly. "She was beautiful, intelligent, funny… Exactly my type, and definitely the woman of my dreams."
Find your soulmate on InterracialDatingCentral










But how did they cross paths in the first place? Signing up was the first step. "A friend told me about the site and so I tried it," A grateful Linda tells us. "It was not my first experience with online dating, but it was certainly the best!"
What drew Michael to date online was the chance to connect with people he was unlikely to encounter in the course of his day-to-day-life. He too had tried other online outlets before settling on our site. "I was somewhat confident" of finding love, he says. Linda informs us that she was pretty sure she'd meet someone special here. And her proactive strategy paid off.
Still, even for someone like Linda, who was willing to make the first move and contact men whose profiles seized her interest, the process took time. She says she was a member for "at least a year" before meeting Mr. Right — Michael! Linda thinks he did a great job of representing himself in his profile. "He was very detailed about who he was and what he wanted," she notes.
What convinced them to test this out in person were the length, depth and quality of their conversations. "Our first phone conversation was two hours long," marvels Linda. "So I knew we had to meet, plus my ear was killing me and I was missing out on valuable beauty rest!"
For Linda, there were a lot of things to like about this guy, but his hair wasn't one of them. She elaborates, "He had this awful long hair but when he sent me a pic the next day, it was cut."
Heading off a bad hair day before they even met was a plus, but Michael already had Linda looking ahead… "I already made a second date with him (a Broadway show) before we'd even had our first date! I have never made a date with someone I had no clue if I would like to spend that much time with, but I went with my heart and stepped away from my normal way of dating."
Meeting up wasn't a tough sell for Michael. "After we had several great messages and a phenomenal conversation, I was ready to see how her inner and outer beauties would mix," he explains. "My hope was that I could be someone she wanted to know better."
In fact, Michael was so into her, so soon that he felt a bit intimidated walking into the room that first night. "He looked so nervous I just had to hug him, hoping that would ease his nerves," Linda laughs. Well, it worked. "Her smile and her long hug put me at ease," says Michael. "She was more beautiful in person, though! Her pictures did not do her justice."
What was supposed to be a quick coffee date turned into something much more romantic. "I only expected the date to be maybe an hour or two, but we left Agora Coffeehouse and walked next door to Empire Café," says Linda, strolling down memory lane. "He was such a gentleman, so sweet and genuine. Even though I wasn't physically attracted to him at first, I was very attracted to his inner beauty… So I said to myself, 'Self, you can love him... Yes!'"
Michael picks up the story there. "The date lasted eight hours, and the whole time I felt completely comfortable and relaxed around the most beautiful woman I had ever met," he marvels. That kind of connection doesn't happen every day, especially with someone whose good looks were intimidating at the outset!
As their relationship progressed, Linda reflected on how mistaken she'd been about what she really wanted. Michael was nothing like the other guys she'd dated. "Obviously 'my type' of man wasn't working, so it was time to date the total opposite and voilá! We made a match."
Next she tells us the story of their engagement. "We went to his company's Christmas party at Opus Bistro in Kehmah, Texas," Linda begins. "This bistro sits next to a pier by the bay. We were on the second floor, and we could see the water. He suggested that after dinner we walk out on the pier and just enjoy the beautiful night sky, and the water. As we walked, we saw two ducks — a white one and a black one, nuzzled together. I said the ducks represented us. We laughed about that and then he turns to me, gives me a kiss and begins his 'how much he loves me and all that good stuff' sweet talk, which was normal from him so I had no clue he was proposing until he dropped on one knee! He said, "Linda Denise Callip, will you make me the happiest man in the world and give me the honor of being my wife?"
Linda was shocked and quite impressed. It was the culmination not only of their whirlwind courtship, but also of a lifetime of romantic aspirations. Linda didn't hesitate to reply. "A girl dreams of this moment and how she will respond, but gosh I was so shocked I just smiled and said, 'Absolutely, yes I will!' He had roses, a seven-page letter and two cards! I was speechless, which is a rarity for me, but the man blew my mind and I loved every second of it!"
Reflecting on how much her life has changed, Linda can't believe the positive impact meeting Michael has had on her. "I am no longer single but married to my best friend, my confidant and my partner in Christ."
Michael is moved at the thought of what Linda has done to improve his well-being. He says he feels "complete, relaxed, at peace and happier than I could ever have imagined in my wildest dreams."
Linda would like to impart some wisdom of experience on our readership. "Sometimes it's best to step away from the person you would normally date. Opposites can attract, as long as you understand that the differences will give you something that you may have wanted all your life. You just might find your deepest hidden feelings will shout, 'Hello! We need this!' I have a slogan: 'Validity of words can ONLY be confirmed through action.' So make sure they back up what they say with continual action."
"Never give up," Michael reminds us. "The person that God made for you is out there, but if you stop looking and trying, you will never find the greatest gift you could share with someone else — true and honest love."
49 responses to "Who Needs Beauty Rest?"
Leave a reply
You must be logged in to post a comment.