When the Hot Cop Met the Lady of Mystery
Posted by Leticia, 22 Oct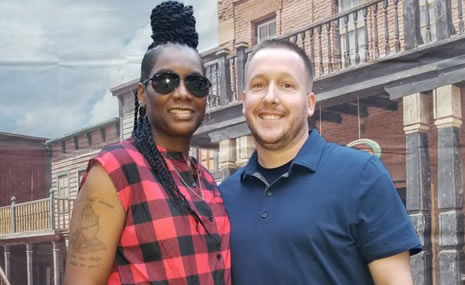 Quiesha informs us that we were her first online dating site. "I Googled 'interracial dating sites' after trying to get back out there to date," she reports. "I chose this one randomly… Thankful I did!"
Bryan had lots of experience, exclaiming "I've been on the site for years!" He says it just took that long for him to connect with the right woman. "I hadn't found anyone that I matched with, until now."
Find your soulmate on InterracialDatingCentral










Quiesha's perception of Internet personals was not overly optimistic. "I thought it was a complete flake," she admits. "I had no real expectations, or hope to find a match."
The funny part is that just a week after posting her profile with the member name "LadyX22," Quiesha received a Flirt from "HotCop599." Guess who that was! "Bryan reached out to me with a Flirt," Quiesha says. When he noticed her among a gallery of new members, Bryan felt compelled to contact Quiesha. "Simply put, I thought she was gorgeous, and I had to say something," he tells us. It was a fateful decision.
However, it's not like Quiesha immediately responded. In fact, Bryan had to follow up with her. "After I didn't respond, he messaged me via IM two days later," laughs Quiesha. So she took a look at this HotCop599. "Although the profile pic was goofy, I did love his smile," Quiesha remarks.
Once they were interacting regularly there was no more hesitation on her part. "We talked every single day for a month," says Quiesha. "We both were super anxious to meet and see if what we felt would be the same in person. He made the trip to Michigan this past week!"
Bryan fills in his part of the story. "After talking every day, I was ready to see her. Meeting is always the toughest part of online dating." So he made the necessary arrangements. "I flew to [Quiesha's hometown in] Michigan for us to meet," Bryan says. "She was beautiful!" He remembers looking at her and thinking, "How did I get so lucky?!"
Bryan may have felt Quiesha was a little out of his league because his nerves definitely got to him. "Seeing her for the first time I got so nervous, but once we hugged, I felt so much better," Bryan recalls. "And then we kissed, and it just felt so natural, and so right."
Quiesha was delighted to see Bryan in person. She tells us her first thought was, "He's so handsome!" Quiesha's affection for Bryan was already strong by then. "I just wanted to hug and kiss him, and that's exactly what I did," says Quiesha.
Here are Bryan's recollections of their first moments together, in Michigan. "I met her family, we went to the movies and out to dinner, went to an arcade, talked about a future together, and made plans to keep building our relationship." Quiesha shares some other details about the time they shared. "We lay in bed and talked, saw movies, had dinner. He met my family and we hung out at the family party."
Being together was still new to them, of course, even having logged hours of conversation. "Even though we talked all the time, we were both still SUPER nervous [in person for the first time]," confesses Quiesha. Bryan adds, "She was just as nervous as I was!"
After this experience, both singles were 100% certain they'd go out again. Their status as a couple was confirmed over the next few days. While each person's dating profile was pretty forthcoming, there were still happy surprises to come. "He is everything he said he was, and then some," Quiesha observes. "A very affectionate and caring man. 100% my type, and more. He's everything I didn't realize I needed in a man."
Bryan says that Quiesha is "even more beautiful in person. Exactly my type. Beautiful inside and out, patient, honest, fun, and someone I want to keep in my life."
The first decision that needed to be made was to take themselves "off the market." Quiesha says that "taking down our profiles on the site" felt like a big step for both of them. However, "choosing to be exclusive with one another" was something their phone conversations led them to do confidently. "Making plans for him to be closer to me" convinced Quiesha, she says, adding, "We are always open with one another."
We asked Bryan when he realized he was willing to deal with the geographical obstacle separating them. "Every time we talked on the phone, I knew," he explains. "[Before meeting her] I had given up on trusting someone, let alone finding a relationship. But I believe Quiesha is my match."
She feels the same way. "It gave me hope that there are still good men out there," Quiesha declares. "And prayerfully Bryan will one day be my husband."
Here are Quiesha's thoughts about Internet personals, in general. "Just be 100% open to the possibilities of the mate you could find," she tells singles. "Be honest, get to know the person, have the tough conversations early! Because those are difficult, and if you get through it and not branch off from one another, you will be able to push through everything else, together. Never did I think someone could capture my heart so quickly!"
Bryan also has advice for everyone reading. "Be honest, communicate! It's been a learning process for us both, but we are both wanting to move full speed ahead with our relationship because we talk about things. We spend hours on the phone, just talking and getting to know one another. I feel amazing when I'm with Quiesha, and I hope others find that same happiness on the site."
That's what we're here for! Our hope is that there is a Quiesha for every Bryan and a Bryan for every Quiesha. Good luck, all.
19 responses to "When the Hot Cop Met the Lady of Mystery"
Leave a reply
You must be logged in to post a comment.