Was He Optimistic About His Online Endeavor?
Posted by Leticia, 28 Jun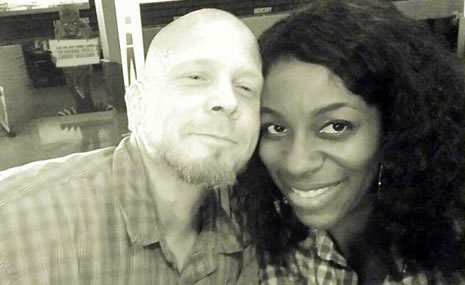 Danielle was drawn to our site by necessity. "I'm a single parent, and for me, dating is next to impossible without being online," she explains. "But finding the right person is a crapshoot!"
Before connecting with Danielle, was Justin optimistic about his online endeavor? "Not very," he laughs. "I didn't want to date online — I felt it was too impersonal. I'd dated someone I met here for a little while and it didn't work out. But I decided to not give up and found my soulmate!"
Find your soulmate on InterracialDatingCentral










The lady in our story wasn't brimming with confidence either, she admits. "I'd dated a few people and they just didn't seem right," she reflects.
Their stick-to-itiveness paid off, however. Danielle was a member for "almost a year" before she got a message from someone with the profile handle "Bulldoggish1" (we're guessing this is a pet reference). That someone was Justin. He says he was five months into his tenure with us when this happened. "I saw her profile on Valentine's Day morning," Justin recalls. "I liked her profile, and her eyes looked right through me."
That was enough to inspire an introduction. "I texted her around 7 a.m. and told her about her eyes," he says. "I wished her a happy Valentine's Day and we texted throughout the day. I asked to call her later, and she said yes."
Their conversation on the phone went well, to say the least. "He connected with me like I'd known him for a long time," notes Danielle. Justin came away impressed. "She was real," he says. "Something was telling me that she's special and I can't lose this."
Danielle relates the circumstances of their first date, saying they met "at a restaurant, for breakfast. He drove over 100 miles to meet up! He was who he said he was. He looked like his profile, not fake."
Justin winks. "She was looking good!" More importantly, they got along swimmingly in this first meeting. "I felt very comfortable with her," he says.
As well as it went, Danielle wasn't positive she'd ever hear from him again. "I wasn't too sure, honestly," she confides. "I've been on dates where they tell you what you want to hear!"
She needn't have worried, though. "I was 100% sure," says Justin of his certainty that he wanted to see Danielle a second time. In fact, he would move ahead quickly from there… "I moved 100 miles to be with her. And we've been together ever since!"
The reason this relationship works so well is that it brings out the best in them. "She makes me better," proclaims Justin. "She was everything I was hoping for."
Danielle feels the same way. It's early, but this pairing could be perfect.
5 responses to "Was He Optimistic About His Online Endeavor?"
Leave a reply
You must be logged in to post a comment.