Wait, Is He Proposing?
Posted by Leticia, 02 May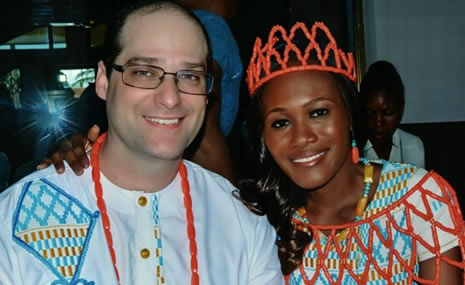 "I wanted to meet someone different, and I wanted to find love," Catherine says to explain her choice to venture online and post a profile on our site. "And I don't go out much, so it was the best place to search for love."
Ryan, the man she would meet, came from a similar place. "I wanted to find love; I was just tired of being alone," he informs us. "My first experience with it was on a few sites, though your site was the first one where I was a paying member."
Find your soulmate on InterracialDatingCentral










"I wasn't confident that I would find someone," Catherine confesses, "Because most of the men just weren't serious, or if they were, I was just too far away."
Ryan was about ready to call it a day and resign himself to being single forever. Then he spoke to someone who would change his life. "I had just about given up on love until a friend of mine suggested I try [your site], so then I was suddenly a little hopeful."
In a matter of hours Catherine found Ryan's profile, which was only two days old itself. "I take pride in reaching out to Ryan first," Catherine says with a smile. "I read his profile and sent him a Flirt. He responded almost a day later. We've been together ever since!"
So what was so fascinating about Ryan's profile? "I read his profile and I loved the fact that he was so caring," replies Catherine. "He had a lot of animals around him growing up. And I loved his smile in the pictures he posted." She adds that he was "very similar" to what she saw as her type. "He is everything I was looking for."
This couple-in-the-making got on so well that before long Catherine wanted to take this to the next level, but it's not what you're expecting. Catherine shares her thought process... "I wanted to see him to be sure that it was the same person I was texting," she says. "I was also beginning to like him so much and wanted to know if he was the one, so we had our first date via video call."
Wait, a video call? Why didn't they meet in person? "We first met on a video call, as I am in Ghana and he is in the U.S.," Catherine elaborates. This experience only whetted her appetite for more quality time with Ryan. "After the first date I knew I wanted to know more about him, because we were both into each other and wanting to know more. We had a lot in common and spoke freely about anything and everything."
When the big day came and they did convene on the other side of the screen, it was satisfying. "We finally met face to face at the airport here in Accra," says Catherine. "We had been talking a lot on the phone, and texting, and doing video. I was so relieved when he finally came out of the airport. I thought he was a little fatter than he was, but it didn't matter. I just kept thinking he was perfect."
You can never be too thin or too rich, right? Ryan's lower poundage was probably a plus, but that wasn't the only thing that struck her about him. "He had a great smile. All I could think was, 'this is my man!'"
Catherine won't soon forget the moment she realized this relationship would have monumental significance in her life. "I was returning home from a funeral when I started thinking about our relationship," she remembers. "It really felt special, and I started to see my future with him, so I started asking him more questions about himself, his family, his past and everything. I could tell he was being very honest and open with me. It felt right."
Of course, thousands of miles of ocean presented no small challenge for Catherine and Ryan. "The distance right now is the hardest part," she concedes. "But we are in the midst of the immigration process, so I'll be with my husband soon."
Another bombshell! So they're married? "He had been hinting about it," Catherine tells us. "I told him he needed to come in person. He made a special video using music to ask me, and it was so beautiful. I've watched it so many times." She laughs, turning a little red at another memory. "Though it took me three days to figure out he was proposing."
Finding love has given her life new hope, she tells us. As someone making it work from miles apart, Catherine urges singles not to let a long distance eliminate someone special from consideration. "One of the challenges [of online dating] can be the distance, but if you love the person, give it a chance," she says. "Make sure it's love though, and ask questions. Make sure you know as much as you can about the person, actually."
Ryan's thoughts run along similar lines. "Be honest," he advises everyone. "Ask questions and do research. Expect the unexpected. I wasn't sure about the distance at first…I actually almost didn't reply to her Flirt because of it. I'm so glad I did. She has been the greatest gift to my life."
13 responses to "Wait, Is He Proposing?"
Leave a reply
You must be logged in to post a comment.