Video: It Only Took TWO DAYS to Meet Her Match
Posted by Leticia, 06 Dec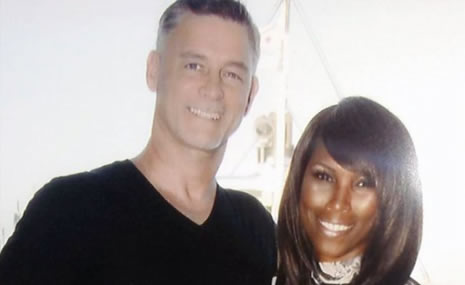 Today, Doris is excited to be engaged, but once upon a time she was debating whether or not to pursue a long-distance relationship with Darren, the man she met on our site. "Don't be afraid to step out on faith," she tells our readers while drawing on her own experience. "I packed up my life and moved four hours away! It was definitely worth the chance."
That's how things ended up, but how did Doris' story begin? She says she signed up originally because, in her very busy life, there simply "wasn't enough time to meet through conventional dating." For his part, Darren declares that he was "tired of meeting the wrong women" and "just curious" to see whatever results online dating might yield.
Find your soulmate on InterracialDatingCentral










In the video below, Christelyn Karazin reviews their love story:
Despite telling us that she was "not at all confident" when she began her membership, it took Doris a mere TWO DAYS to meet the man she is now engaged to marry. Explains Doris, "It all started when 'Coco72' sent 'Firefox 43' a Flirt..." (Those were their screen names). "His sincere honesty and the fact that he was very handsome" sparked her interest, she says.
"I found her to be very sexy!" exclaims Darren. So he wrote back and their dialogue began. This romance was sizzling from the start. "We would talk for hours," says Darren. "His conversation and sense of humor" convinced Doris they should date. "We met up Memorial Day Weekend," she tells us, adding that "he looked just like his photo." Doris also liked that "he immediately wanted to hold my hand as we walked."
"We went to Six Flags," Darren reveals. "She looked just like her pics. She was a good kisser, too!"
After parting ways, both thought things went great and they were "100%" sure they'd see each other again. As Doris and Darren got to know each other, neither person learned anything new that they didn't like. "His profile was pretty much spot on," says Doris, looking back at it now. "Definitely the part about loving sports! But he's exactly what I wanted in a man."
"She is truly a loving mother and a very caring person," observes an appreciative Darren. "She is a wonderful woman!"
The only problem is that we were four hours away," Doris notes with a resigned shrug. "Distance was an obstacle," agrees Darren. But they powered through it.
Doris will never forget when she decided they were meant for each other. "We were returning from a trip meeting his parents for the first time," she recalls. "And it was then I realized he was the One!"
Darren was on the same page and thinking one step ahead, enough so that this next part came as a surprise… "He took me out on a dinner cruise in Chicago," continues Doris. "As the fireworks began to go off, I looked up and he went down on one knee and asked me to marry him. Of course I said yes!"
Meeting Doris has had a huge impact on Darren's life. "It has taught me the value of love, something I took for granted in the past," he says. Doris tells us, definitively, that their relationship "has made me a better person."
Here are the words of wisdom the duo offers to all the singles out there. "Be patient," both say. Doris adds, "If it's meant to be, it will be. True loves conquers all!"
"Good luck," Darren advises any guys reading. "She's out there."
She just might be four hours away…
45 responses to "Video: It Only Took TWO DAYS to Meet Her Match"
Leave a reply
You must be logged in to post a comment.