The Road Got Bumpier After Their Horse and Carriage Ride
Posted by Leticia, 07 Jun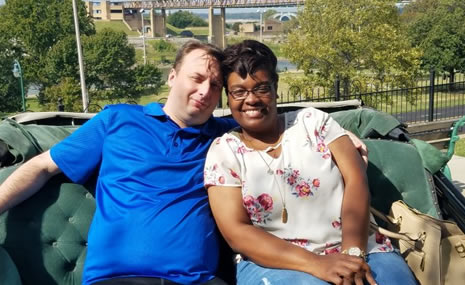 "I was not confident at all about finding love on the site," admits Shequetta, looking back on her decision to post a profile with us. "I had tried other sites and it didn't work, but I thought I would give it another shot!"
Kenneth was in the same boat. "I was not very confident, and I was close to giving up hope," he tells us. "But I met the perfect person on this site."
Find your soulmate on InterracialDatingCentral










Part of the appeal for Shequetta was our niche. "This site was more direct when it comes to interracial dating," she explains. "The other sites had people who weren't sure about dating interracially." Kenneth had a similar experience. "This was not my first site. I chose this one because I date interracially, and it allowed me to connect with people who wanted the same thing."
Four months after he posted a profile with the handle "CoachKen," our love story's leading man heard from Shequetta. She'd only been a member for a week, under the username "FutureMD29."
"I sent a Flirt to Ken first," Shequetta recalls. "I liked what I read in his profile, and he had nice eyes." Kenneth didn't think twice about responding. "I liked her pictures, and there was something about her that drew me to her," he muses, adding, "and she was looking for something serious."
Initially, Shequetta thought Kenneth was holding back. "At first, I thought he was quiet and didn't have much to say, but as we spoke on the phone I was totally wrong," she says. "I felt a calm when I talked to him. We talked for hours a day." Kenneth nods. "We'd stay on the phone for hours, and we had so much in common."
With that caliber of bonding in action, the duo decided to move ahead and meet in person. "We met on Beale Street, and went for a horse and carriage ride," Kenneth informs us. He wasn't disappointed by the lovely lady standing in front of him. "She was how I thought she would be, and she was very funny." On the other side of this equation, Shequetta remembers thinking in those early moments, "He is a nice-looking guy, and he has a very sweet smile."
The way the date went (well) did not come as a shock to either of them. "It was no surprise, but it just felt right being there [with him]," Shequetta elaborates. For Kenneth, it was a great date – his hopes were not dashed. "She was everything I expected!"
Asked if they felt positive there would be a return engagement for the Shequetta and Kenneth Show, they give the same answer. "I was VERY sure."
Over time, with the relationship growing more serious, Kenneth saw more substantive sides of Shequetta than her profile had let on about. "She's a super-incredible mom, and a very sweet person," he compliments her. "She was my type from the start!" Shequetta says he was definitely a bull's eye for her, too. "I have dated different types, but no one with whom I felt this strong of a connection."
Of course, it was a bit of a bumpy road getting to the point where the couple is at now. "Blending families" was a challenge, Shequetta concedes. "He has two kids and I have one." But from one magic moment early on, Kenneth was certain he'd do whatever it took to make this work. And that moment was? "When she walked in the door and kissed me," he says, turning introspective for a second.
Both components of this couple feel that love has changed their life – for the better. "It has changed it a lot," says Shequetta. "I have someone who is interested in me and what I have to offer." When Kenneth reflects on the benefits of a great relationship, the first thing that comes to mind is companionship. "It is really great to have someone to share your life and experiences with, and to help raise your children," he says, getting a bit emotional.
Shequetta would like to offer her insights into the online dating process. "I say, just give it time," she advises. "There will be some people on the site for the wrong reasons, but you have to stay open-minded."
To that end, Kenneth adds, "You just want to be honest about who you are and your situation. Stay true to yourself. Keep an open mind."
4 responses to "The Road Got Bumpier After Their Horse and Carriage Ride"
Leave a reply
You must be logged in to post a comment.