Success Story: No More Frog-Kissing
Posted by Leticia, 03 Oct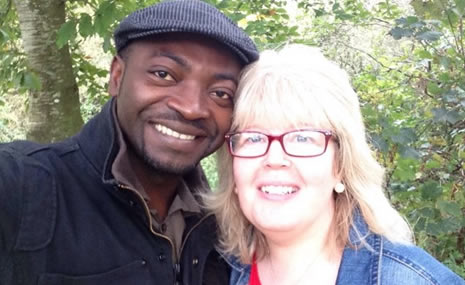 Clare was very skeptical about finding love online. "I was looking for a 'quality' man, and I was not at all confident," she says, flat out. This wasn't her first experience with dating online, and nothing amazing had happened to date. Still, she signed up anyway.
Jeff was a little more open-minded. "It was my first go at Internet dating and I just thought I would give it a try," he says with a shrug. Jeff was on our site for just a few months before noticing the profile of a lady calling herself "LuciousLadyo." This particular profile stood out for him, so he sent her an email. Here are his earliest recollections of Clare… "She seemed lively and fun, and we lived in the same city," he remembers thinking at the time.
Find your soulmate on InterracialDatingCentral










At that point, Clare had been on our site a full year. All of a sudden, her experience got a lot more interesting. Of his email she says, "It was well-written and left me wondering." Curiosity sparked, she took a gander at his profile. It took her a long time to decide what to do next. Clare hadn't had much luck dating online, you may recall. But after some pondering she "just decided to give it a go, in the end."
"We talked for about a month before meeting," Jeff explains. When Clare was ready, they met at a coffee lounge. She found Jeff charming. "He was very quiet, very shy," she says of her beau. "But we chatted for hours."
Jeff thought Clare was pleasant and chatty. She kept the conversation going and made it very easy for him, he says. Later, they went for a walk in the park. Jeff indicates that he was quite taken with his date. Among her attractive attributes were warmth, charm and a funny personality. She seemed so great that he was worried he wasn't interesting enough for her to see again! He was happily surprised when she agreed to go out on a second date.
"I was open-minded," she says. "His profile hadn't said too much, but what came across in person was his wit, his personality and his intelligence." But was he "her type?" Clare smirks. "Not very." Jeff agrees. "She's quite different" [from what he thought his type was].
Obviously, their ideas about their type needed some adjustment! The more these two got to know each other, the more they realized how right for each other they really were.
On the path to becoming a couple, however, they hit a roadblock. "Family acceptance," Clare specifies. But finding love had changed her life! What others thought didn't matter to her anymore. "I'm far more happy and secure," she says. And Jeff indicates that he found "stability and purpose" in his life when he found Clare. Nothing was going to tear these two apart!
Do they have any advice for other online daters hoping to find love like they did? Clare says to always keep an open mind, and draws on old wisdom for her sign-off. "Sometimes you need to kiss a lot of frogs before you find your prince!"
Jeff's advice reflects his experience. "Give it a go... You might be surprised at how easy it is!"
9 responses to "Success Story: No More Frog-Kissing"
Leave a reply
You must be logged in to post a comment.