Love Kept Them Waiting
Posted by Leticia, 28 Oct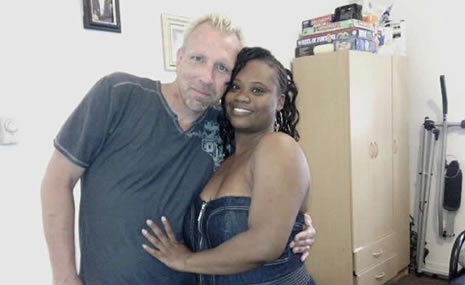 We weren't the first online dating site Lolisa tried. She'd decided to go this route some time earlier, based on the bad luck she'd had meeting the type of guys she wanted to. "I just wasn't being approached enough by men of different races," Lolisa laments. "Thought I would have better luck here!"
Forrester had never been a member of an Internet personals site before. For him, our format was an easy sell. "I've always liked dating black women," he says. "And I am glad I found love!"
Find your soulmate on InterracialDatingCentral










Lolisa says she was "not very confident" that she would meet someone special online, but she was determined to try. Forrester was in the same boat — he wasn't expecting much. Well, they were right to be reticent. Results didn't come right away. In fact, Lolisa was a member for two years and Forrester for three before this romance took off…
One day while Lolisa was logged into our site, a chat box popped up. "Forrester reached out to me through an instant message," she recalls. They got to chatting and felt some virtual chemistry right away. "I thought he was sexy," Lolisa says. And how did he feel? "I fell in love with her!" exclaims Forrester.
They were excited to meet up in person. When the night arrived, nobody would call it a letdown. "I thought you were handsome and tall," Lolisa says to Forrester. He smiles and tells us, "I thought she was beautiful."
Surprisingly, these two met eight years earlier and both had always wondered if they would be good together. Now they had their opportunity to take it out for a test drive… "He looked the same after all those years and I was also still very attracted to him," Lolisa says. After a highly successful first date, both were "very sure" it was a good idea to go out again.
Asked if there is anything she appreciates about Forrester that didn't come across in his profile, Lolisa has this to say. "He has a very big heart and would give you the shirt off his back," she informs us. "But he's very strong and brave at the same time."
Forrester says that Lolisa is "faithful, lovable and sexy." Truth is, she's "very similar" to what he had in mind when he set out to meet someone special online.
Their new relationship has been beneficial in all kinds of ways. Lolisa lives much more joyfully than she used to. "I thought I would never find a love like this, but now I'm a believer," Lolisa declares. Her man feels like he's turned a corner in life, too. "I'm finally happy and content," he says.
Lolisa has a list of suggestions for online daters. "Don't rush it," she advises first. "But don't be picky. Be yourself. And never give up on finding love! It's out there."
Something led Forrester to reach out to Lolisa that day, and he's sure glad he followed his instincts. "If you have the feeling, run with it," he suggests.
Sometimes love is waiting at the end of a long road — you just gotta get there…
Responses to "Love Kept Them Waiting"
Be the first to leave a comment
You must be logged in to post a comment.