How This Love Incredibly Fell Into Place
Posted by Leticia, 24 May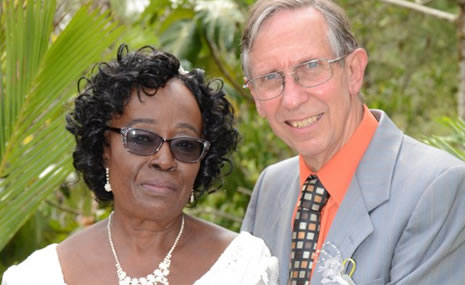 How did the decision to post a dating profile lead to Lestra and Philip's nuptials? Well, it all began with Lestra selecting the username "Leslu" and Philip choosing "Pwelect." Motivated by her "desire to find a suitable mate," as Lestra puts it, she felt "fairly confident" the new profile would yield results. Philip says that at that point his hope was to "find someone with whom I could relate."
Five months after Lestra's profile went up, and three months after Philip joined our site, they connected. As Lestra remembers it, "'Leslu' reached out to 'Pwelect' with a Flirt and he responded." From his profile, she saw the potential for a match. She says that "our compatibility, in many ways," inspired her to reach out. Philip was impressed by "her being very honest and open from the beginning."
Your perfect partner could be online right now...
What are you looking for?
After correspondence confirmed their connection, Lestra decided to act on her interest and visit Philip in his own country. "I was on vacation in the U.S. and used that opportunity to meet him," she explains. "I could not resist, as things seemed so promising," chimes in Philip. "I happily made use of the fact that she was coming to the U.S. anyway!"
Lestra says that they met at her relatives' home and then went out to dinner together. Her first impression of Philip was favorable. "He was handsome, genuine and gentle," she says with a smile. Philip remembers being happily surprised in this first in-person meeting. "She looked younger than her age," he remarks. "She was lovely and I just wanted to spend time with her."
Lestra informs us that their chemistry was effortless. "Everything just flowed naturally, as if we had met each other before," she marvels. Philip nods in assent. "We just clicked! Everything was so open and honest between us. It all just fell into place."
Both singles were sure they'd see each other again, despite the gulf of oceans between them. "I had to travel to her because she was what I wanted," says a smitten Philip. Lestra didn't let government bureaucracy stand in their way, even when she couldn't get a travel visa for a subsequent visit. "From our first date, things were special," she tells us. "The love he had to share was more than I anticipated!"
Given the mutual commitment here, Philip felt confident taking the next step. Lestra will never forget that day… "Quietly, at a luncheon, he popped the question and I accepted. I knew that I could not do otherwise. We are simple people, so we did not want any fanfare."
Philip says that his life has never been better, calling this relationship a dream come true. "I am contented with my love," he says. "Life has meaning again."
His lady feels the same way. "I am happy, relaxed and love what God had done for me. My life is fulfilled," Lestra declares.
What words of advice do they have, now that their online dating adventure has reached a successful conclusion? "Be true in everything that you do and say," counsels Lestra. "Honesty will rule the day. Be open and be yourself — if not, your sin will find you out. Be positive from the start and move gradually."
Philip also believes that honesty is the best policy. "Continue to be honest and open," he reminds us. "In the end, it will be the best for both of you."
11 responses to "How This Love Incredibly Fell Into Place"
Leave a reply
You must be logged in to post a comment.