First a Flirt, Then Four Years of Marriage (And Counting)
Posted by Leticia, 29 Apr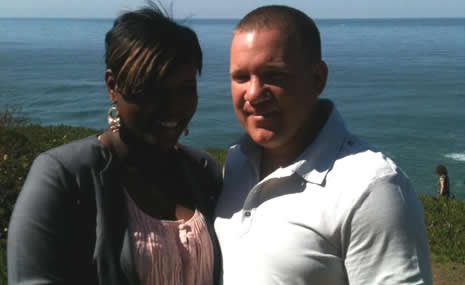 John was "tired of the club scene" and gave online dating "about a 50/50 chance" of changing his love life for the better. He had no idea he would meet his wife of four years on our site!
Back then, John's missus was just April. She was "bored, trying something new" when she signed up for our online personals service. April admits that she was "not at all confident" she would ever meet a mate on the Internet. Still, before a month had passed these new members were already communicating. "I liked his profile, and he seemed sincere," April recalls. "So I gave him a Flirt."
Find your soulmate on InterracialDatingCentral










"She was easy to talk to. We seemed to have known each other before," notes John. "I started talking with her on January 6, 2006. Although I never thought at the time we would be married two years later, I loved talking to her every day."
It's true—on paper, John was "not at all" April's type. He didn't think they would wind up in wedded bliss, either. Due to the distance between them, it actually took eight months of interaction before this duo even met for a date! "She never rushed anything, and was the most patient woman that I've found," John says.
Still, they couldn't wait forever to give this thing a trial run. "It was time," April says. When the date began, there was instant chemistry. April remembers thinking, "Oh yes! He's a keeper." John was also smitten from the start. "She was really good looking," he says. "I loved her smile."
In the course of the date, any doubts the pair had about their suitability for one another quickly evaporated. "It was the best time ever," says John. "Seriously, we still think about it!" April agrees. "He was better in person." Still, though, she wasn't 100% certain they would go out again. "I wasn't too sure, because he lived in another state."
John was determined not to let this love die, though. After eight months of online courtship and one great date, he was sold. "I loved her. When it was over, I felt like I had left family," he says of his post-date thoughts.
As the relationship progressed, nothing changed April's mind about her future husband. "He really is a good guy. Perfect gentleman," she declares. John acknowledges that there are ups and downs in any relationship, but this one is steady as she goes. "Although we have our moments where we argue, we love each other," John says. "I feel so warm. No worries."
One day, John approached April with an exciting idea. "Las Vegas, baby! Lets do this! It's been long enough. Time to make you mine!"
April acquiesced without a second thought and soon, wedding bells were ringing. On March 7, 2008 the pair took the plunge and exchanged vows. How has being married changed their lives? "Dramatically," April laughs. "You do not know! John is the love of my life." John is even more succinct. "Now, I have happiness," he says.
April believes that online daters should be patient and methodical in their search for a spouse. "Take it slow. Don't rush anything," she advises. "Be real with one another. Don't put pressure on your partner. Enjoy one another. No games!"
It's John's view that one can't be judgmental with the person you love, or try to hold your partner to an unrealistic standard. "Compromise is the key," he says. "There are going to be things you don't like about your love, but you must accept that or it's not going to work. Be patient, and loving."
This formula has worked for John and April. They welcomed their first child to the family in 2009 and recently celebrated their four-year anniversary. John is very grateful for his good fortune. "Thank you for bringing me happiness and finding my soul mate," he tells us. "I also want to thank all of those who flirted with me. Be patient and you will find your mate. God bless to all!"
102 responses to "First a Flirt, Then Four Years of Marriage (And Counting)"
Leave a reply
You must be logged in to post a comment.