What's that on the rock?
Posted by Leticia, 09 Sep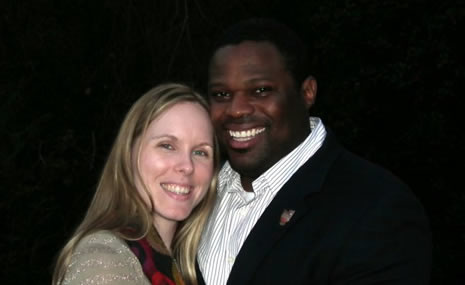 In her heart of hearts, Amber knew that one day she would meet the man she was meant to. "I was sure it would happen in God's timing, but I didn't think it would happen on an Internet site," she laughs. No, the truth is that signing up with us was something she did on a whim. "It was really just something to do," Amber explains. "I was single and thought it would be fun. It was my second time on a [dating] site."
This was Angelo's FIRST time on a dating site. When singles relocate, they often turn to the Internet to help them socialize. "I had just moved to a new state and wanted to connect with people," Angelo informs us. However, he says he was "not very sure" that online dating would produce a life partner for him. "I was open to love, but not stuck on finding it," he explains.
Find your soulmate on InterracialDatingCentral










"Not even a month" into her membership, Amber heard from Angelo. He'd been with us for three months when he spotted Amber's profile and felt drawn to her. "'Gello' reached out to 'Ber' via Flirt," Amber recalls, using their screen-names. Her first impression of him wasn't exactly love at first sight, but she was intrigued. "He was interesting, but not the norm of who I would date," Amber says. "I was open though!"
After their early interactions, Angelo's conclusion was that "she was full of herself, but cute." Over time they got to know each other and familiarity did NOT breed contempt. "Long conversations on the phone" convinced Amber she was ready to meet this man. "He was not pushy," she says, appreciatively. "We did not meet face to face until six months after we connected online."
The timing was right. Amber made Angelo a generous offer. "She offered to pick me up from the airport when I was flying back from a work trip," he says. When he got off the plane, he was greeted by Amber's "nice smile." Keeping that smile on her face was the fact that she thought "he was handsome and straightforward."
As they spent some time together, Amber was surprised by "how outgoing he was in person. He did not seem like someone who would need to meet people online... But neither do I! Haha!"
That said, the date wasn't filled with immediate fireworks. In fact, they left unsure where they stood with one another… Amber admits that she was "not sure at all" if they would ever go out again. "I thought he was nice, and cute, but I was not sure how well we connected." Angelo says he put the odds of a second date at exactly "62%." So better than 50/50, but not by much…
Fortunately, a second date did happen. So did a third, a fourth and many more. "He is different in some ways from what I thought my type was," Amber notes. "He is much better than what I thought I wanted!" Something else that really won Amber over was "his strength and love for the Lord." Angelo felt similarly. "Her love for the Lord came across in the profile, but nowhere near what it really is." He adds that Amber is "very similar to what I thought I wanted" before venturing online in search of a lasting love.
So how did the marriage proposal happen? Amber gives us the scoop…
"We love going to the mountains and to different parks in North Georgia, so we decided to go up to Amicalola Falls to just relax and hang out. I like photography, so I took my camera with me. I was taking pictures of the falls and mountains when he needed to go back to the car. He came back with a drink and bag of chips. I thought nothing of it. As I was taking pictures, he set the ring box on a rock behind me and then asked me to take a picture of the moss on the rock. I didn't see the box and he said, 'So, what do you see in the picture here?' and pointed at the box. I still did not see it!"
If it was a snake, it would have bit her! An embarrassed Amber pauses, laughing, before picking up the story. "So, making one more attempt, he said, 'What is that?' and I said, 'What is it?' I picked up the ring box. He took it from my hand, got on one knee and had a little speech prepared about how much he loved me and how I'm who he wants to spend his life with. Seconds after he proposed, a man walked by and took a picture for us. It was awesome!"
Finding love has had a transformative effect on Amber. "It has helped me to mature and appreciate relationships in a way I never have before. It has also humbled me and brought me closer to the Lord."
Angelo says that his relationship with Amber "has softened my heart and allowed me to learn how to trust more. It has given me a new appreciation for God's grace and love."
He tells singles to "keep an open mind and do not entertain people you are not really interested in. Keep things light until you are ready to take it to the next step. Avoid people who put up red flags. There is a reason."
Amber's advice for single ladies is this. "As a woman, if you are really looking for love, respect yourself and avoid guys looking for the wrong thing." By the same token, she tells daters to ditch the laundry list of expectations. "Do not log on with any expectations. Take each situation for what it is, and don't move too fast." She thinks that getting to know each other, as she and Angelo did, was good for them.
Don't forget, Amber and Angelo's first date wasn't great. Good thing they gave it another shot!
25 responses to "What's that on the rock?"
Leave a reply
You must be logged in to post a comment.