A rough first date didn't get them down
Posted by Leticia, 28 Jul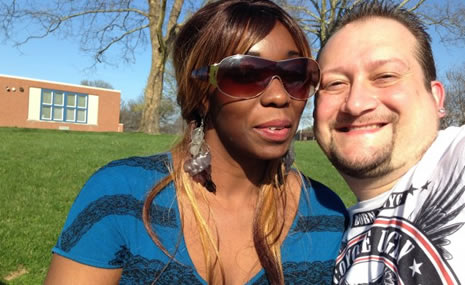 As you know, our website introduces many thousands of singles every year. Members with the monikers "Skylove" and "Phillyfan42" connected one day and saw their lives change almost overnight.
Brenda recalls how she found her way to us. "I tried a couple free sites but was not finding what I was looking for, so I gave your site a try," she says. "I was not real confident. There are a lot of guys out there who are not looking for what I was. I was getting frustrated."
Find your soulmate on InterracialDatingCentral










Robert, aka "Phillyfan42," shared Brenda's less-than-optimistic outlook. "To be truthful, I had no confidence at all," he admits. "I was quite skeptical. It was not the first site I tried, but I was having difficulty meeting African American women."
As is often the case, their pessimism quickly evaporated. Only a few weeks went by before a connection was made. "Rob reached out first, with a Flirt and then an email," says Brenda. "We started there, and then he asked me out on a date. We have been going out ever since!"
What was the appeal for her? Brenda explains, "He seemed real cool and down to earth. Very well spoken." Adds Robert, "I thought she was very attractive but also had her stuff together — going to school and having her own place — so I was impressed!"
Their communications went beyond cordial to warm and curious, so it seemed like time to let this process progress... "We had shared a lot of the basic things about ourselves through our messaging, so it was time to see the real thing in person," Brenda explains. Her match agreed with that assessment. "I think we had shared as much as we could without meeting and seeing what each other was really like, in person," says Robert.
When the big night came, Robert got there first and soon wondered if his date would ever arrive. "She was late," he notes with a laugh, "But it was worth the wait, as she was very attractive!"
After their introductory hugs, first impressions were made and opinions formed. "He was in real good shape and had a very clean appearance," Brenda says of Robert, admiringly.
All things considered though, their debut date was a little rocky. "I got ill towards the end of the date and he had to take me home," Brenda reveals, a bit embarrassed by this turn of events. Robert was disappointed too. "She got sick to her stomach and I had to take her right home. Cut the date a little short," he laments.
Between being late and getting sick, Brenda wasn't sure what Robert felt about her after Date No. 1. "I didn't think we would [go out again], since I got ill," she confides. "I didn't think he would call!"
Robert begs to differ. "I knew right away," he says. "We had a great time until she got sick, so it was worth another shot!"
On subsequent dates Brenda's positive perception of Robert was solidified. "He was an absolute gentleman," she tells us. "Opening car doors and restaurant doors as well as holding hands."
Robert was a little surprised by how reserved Brenda was. "She was shy at first but opened up quickly, once she felt comfortable," he says. "Aside from that, her profile was pretty accurate."
While opposites often attract, commonalities are usually how people connect. "We're very similar. We like a lot of the same things," observes the lady. Robert opines, "We are alike in a lot of ways, with enough differences to make it interesting."
Today, their romance is coming along swimmingly. "It has brought a lot of joy back into my life that was missing," gushes Brenda. Robert credits Brenda for being a breath of fresh air, too. On the subject of the relationship he says, gratefully, "It has made me very happy and gave me something to look forward to again. It was pretty depressing for a while!"
Here are the words of wisdom Brenda has to offer other singles. "Avoid the players out there," she warns women. "Ask the right questions about him as far as career, what he is looking for, where he sees himself in the future. You will scare the not-serious ones away quick!"
Robert suggests that fortune favors the bold. "Don't be afraid to take a chance," he urges the men who are reading this. "Ask women out routinely. If they don't answer or say no, you move on! Not taking the chance could have caused me to not meet my girlfriend, so it's definitely worth it. Stay true to what you want and don't compromise too much."
And if your date gets sick while you're out, don't hold it against them!
29 responses to "A rough first date didn't get them down"
Leave a reply
You must be logged in to post a comment.