A Fight on Their First Date
Posted by Leticia, 14 Feb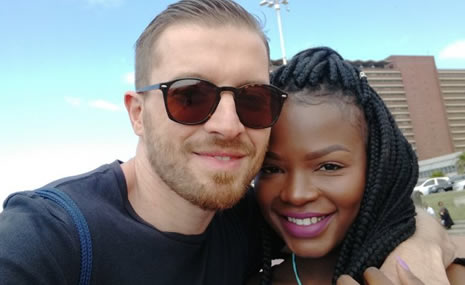 Vongai and Charlie were nice enough to share their story with us, in hopes that it might encourage everyone who hasn't found the right match yet. Vongai gets us started… "I have personally always been more attracted to men of other races, especially white men, and living in South Africa with so much racial segregation it's not exactly easy to meet someone of my preference. So I ended up having to sign up with the site to get precisely what I needed and wanted."
Vongai's faith in the process was greater than Charlie's. "I was very confident," she reveals. "I believe you get what you want and what you channel into your life." For him, though, the outlook wasn't as rosy. Charlie put his level of confidence at "not so much" and said his use of the site was casual. "Honestly, I started using the dating site in my spare time," says Charlie. "When I was off from work I would log in to talk to someone. My purpose was to find a nice black lady with the same values as mine."
Your perfect partner could be online right now...
What are you looking for?
After a couple of misfires, Vongai scored. "I of course met a few [jerks] the first few days I was online, but it didn't take long before I met Charlie. I think it was just 20 days after signing up!" Charlie nods — his situation was similar. "Just 15 days after my first monthly payment, I met her."
Looking back on their first interaction, "I started flirting with her by sending a Wink. She didn't reply, so I sent her another message and when she did reply, she sent me her phone number to chat on WhatsApp." Interestingly, it wasn't really anything specific about Vongai's profile that drew him to her. "Actually, I don't remember her profile now," confesses Charlie. "I do remember her nickname, though. That captured my interest because it sounded sweet ["SugarPlum21"]."
Having a look at his profile, Vongai was definitely drawn to this fellow. "His cuteness, honestly, is what attracted me most," she explains. "Then I decided to look at his profile. Well, he didn't have much on there, actually! A few things he was specific about, like wanting someone good with kids."
We asked the happy couple when they felt ready to meet in the real world. Vongai struggles with the word "ready" here – it's more like ready or not, she knew it had to happen. "Are you ever ready for this?" she laughs. "I don't know. I'd be lying if I said I was ready."
Charlie, however, had no hesitation about taking the next step. "I was really attracted to her mentally, emotionally and physically," he tells us. "I was pretty sure about her, since we'd spent a long time talking in our daily calls. I had gotten a pretty clear idea about her. Everything came easily."
That being the case, they made plans to meet. Unfortunately, airline tickets were required. Neither person balked at this necessity. "We met at the airport and decided to tour South Africa for 10 days, visiting scenic places together." Did they meet each other's expectations, face to face? Vongai remembers thinking, "Damn, he smells good! He's actually more handsome in real life." Charlie tells us, "She was exactly what I was expecting, and even more beautiful than I thought she could be."
Their time together did come with a surprise twist, however. "We fought on our first date!" exclaims Vongai. "Very, very silly." It turns out that Charlie was surprised by the warmth of Vongai's greeting, or lack thereof. "After almost three months of telling me, 'when I see you I will jump on you,' she didn't, because she was too shy, so I got really surprised and confused all at once."
They quickly ironed out the misunderstanding, however. "After those first 10 days I was happily sure [there would be more]," Charlie tells us. Vongai's feelings on the matter were similar. "Yaaay! I will go out with him for life." The more she got to know him, the better she felt about this match. What didn't come across in Charlie's profile were "his faith and spiritual demeanor," qualities that Vongai values. "I obviously wanted some of his qualities [in the profile], but I was presented with more!"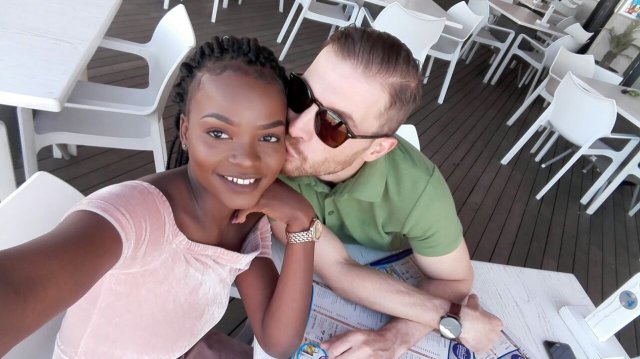 As time went on, the gulf of miles between them did loom large. Vongai says that "communication and the vast distance [between them]" were obstacles to overcome. Charlie seconds the thought and says that communicating via social media failed them, sometimes. Whenever they're apart, she is greatly missed.
So when did the duo realize this romance was special and needed to be nurtured, no matter what? "I was in bed, chatting with him," says Vongai. "Pillow-talk moments." For Charlie, the process was more incremental. "It came gradually, day by day, as I started missing her presence."
One day Charlie presented Vongai with an engagement ring. "We were in bed, sleeping," laughs Vongai. "He's so weird! I can't even explain it, but it's so sweet and intimate."
Finding love has taught Vongai "to open up and rely on someone else emotionally. I have always been the one who depends on herself for everything, but now love has taught me to lean on the other person, too." Charlie notes that "she has the power to make me feel truly loved, and this has changed the quality of my days."
"Be genuine," Vongai tells daters. "Never settle for something you feel isn't right. You will know instantly if someone is serious about you or just wants playtime. Going with the flow online is not ideal – you have to establish from the get-go what you need from each other. That way, you won't have anyone waste their time."
Here's what Charlie has to say. "Guys, don't rush into things. To build confidence [in a relationship] requires time. And once you've got that confidence, you can face anything. Be respectful and patient when misunderstandings come along, especially when you don't get what you want. If you're really into someone, give them the best of you."
For Vongai and Charlie, the best is yet to come.
21 responses to "A Fight on Their First Date"
Leave a reply
You must be logged in to post a comment.