She Saw Her Future in His Eyes
Posted by Leticia, 02 Mar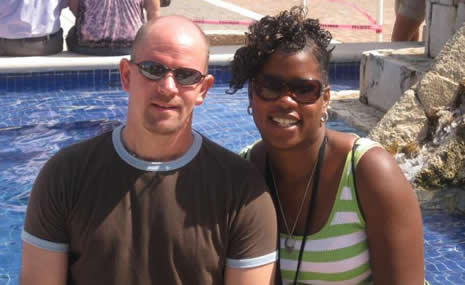 Renee kept seeing an ad for our site on her Facebook page.  She was single, wanted to date interracially and felt she had nothing to lose, so she signed up.  Jeff's profile intrigued Renee—in addition to sharing her strong Catholic faith, he was upfront about what he was looking for in a partner.  So she sent him a flirt!
"He said he was so happy to find a black, Catholic woman who lived nearby," Renee says, looking back on Jeff's first email to her.  As they exchanged messages throughout the day...the pair found that they had enough in common to justify a date.  But when they met, Renee didn't know from looking at him that she was meeting the man she would marry.
Find your soulmate on InterracialDatingCentral










"My first impression of him was that he was a bit on the short side," she admits.  "But I liked his voice, his eyes and listening to him talk.  While he was very respectful, he didn't mess around.  He showed his interest sincerely and instantly."
Their first date took place at a nearby monastery, where the couple shared their first long conversation in person.  It wasn't long before Renee realized she felt comfortable talking with Jeff.  "He respects me for whom I am," she says.  "I'm myself with him and he with me."
Future dates explored their common interests, such as browsing religious gift shops and visiting old churches.  "We do things we both consider fun when others might not," Renee notes.  "We 'get' each other and I never thought I would find someone who gets me.  But thanks to your dating site, I did!".
The couple decided their wedding day would be March 12, 2011.  Filled with joy and excitement, Renee feels certain she's found a lifelong match in Jeff.  "I look in his eyes and I see my future there.  We plan to travel, work, have fun and grow old together, both of us knowing how loved we are."
20 responses to "She Saw Her Future in His Eyes"
Leave a reply
You must be logged in to post a comment.