The startling epiphany that would change her life
Posted by Leticia, 20 Jul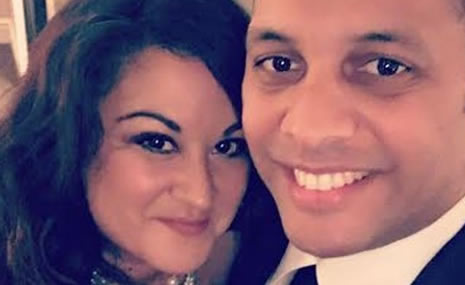 Before meeting on our site and getting engaged, Gabrielle and Lynden were just like a lot of people out there – looking for love, but not sure where to find it.
"I just wanted to find someone," says Gabrielle, explaining why she posted a profile on our site with the username "Celtics34_05" (Guess she's an NBA fan!).
Find your soulmate on InterracialDatingCentral










The man she met, Lynden, was also here in search of someone special. "This was not my first experience with online dating," notes Lynden. "I'd tried several other sites [before this one]. But I wasn't confident at all!"
The singles signed up at the same time and were members "less than a week" before crossing paths. Gabrielle made the first contact with a Flirt to Lynden. "This was the first time I'd sent a Flirt to a man," reveals Gabrielle. "I did a little search for the things I wanted in a mate and Lynden's was one of the first profiles that popped up."
Her proactive approach represented a strategic shift for Gabrielle. "I'd always just started a profile, let my inbox flood with responses and then sorted through them, instead of looking for what I truly wanted." But all that changed when she noticed Lynden. "I said to myself 'there's my husband' when I saw his pic and profile come up, and I was right!"
So what was so compelling about the member with the handle "LPG01" (Lynden)? "I thought he was handsome and I liked his profile," she explains. He was "not similar at all" to her type, which must be a good thing in this case.
"I don't know if I have a type," says Lynden, but Gabrielle caught his interest immediately, too. "Her profile seemed very interesting, and she was beautiful!"
In their initial conversations, the couple discovered a natural rapport already in place. Before long, both singles felt ready to take the next step and get together in person. "We'd talked for God knows how long on the phone, so clearly we clicked," jokes Lynden.
Gabrielle adds that Lynden quickly offered to fly to meet her. She accepted this offer without a second thought. "He flew to New Mexico to spend the week with me," Gabrielle recalls. "He's even cuter in person, and TALL!"
Lynden was pleased with the person in front of him, too. "Thank God she looks like her picture," he thought to himself. What surprised them most about their first date was "that we naturally got along so well. It felt as natural in person as on the phone."
His lady agrees with this assessment. "We had a very natural chemistry as if we knew each other already!" For her, it was a "definite" that there'd be a Date No. 2.
"I'm pretty sure we shut our profiles down [after that]," declares Lynden. It was a done deal.
While "distance and big life changes" posed a threat to the new relationship, each of them had so many good qualities that both wanted to make it work, no matter what. "His honesty" tops the list of positive traits for Gabrielle, and "how kind she is" comes immediately to mind for Lynden.
Still, he says these obstacles took some effort to overcome. "Making it work from across the country, and then the adjustment when she moved in, [was tough]," Lynden allows. But they stuck with it.
Gabrielle remembers the moment she realized she'd do anything for love, at least with Lynden. "Brushing my teeth with him before bed," she says she was struck by the intensity of her feelings for this fellow. "I looked over and thought that I'd love to brush my teeth next to him forever."
Lynden knew he was truly in love "when I did everything I could to be with her."
Given that, the couple soon found themselves on the threshold of a big commitment. "After we'd gone home for Christmas — so he could ask my daughter and parents for their blessing — Lynden proposed at the Ginter Botanical Gardens," says Gabrielle. "I moved across the country to build a life with him!"
It's been a learning experience for Lynden. "I've learned how to share my life and space with someone," he reflects. Here are some other things he'd like to share with our readers. "Be honest on your profile," Lynden urges. "And be open and honest with yourself. Be open to finding love with someone who lives across the country!"
That openness has served him well.
4 responses to "The startling epiphany that would change her life"
Leave a reply
You must be logged in to post a comment.