It Happened at the Hotel Bar
Posted by Leticia, 18 Jan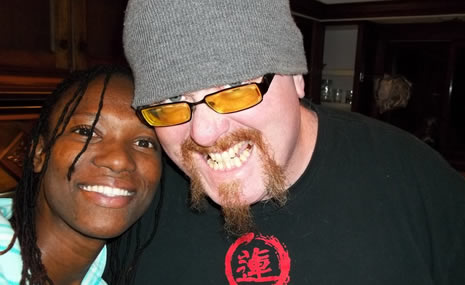 Karene and Jason met on our site, married and are expecting their first child. But it wasn't so long ago that they were lonely seekers of a lasting love, just as many of our members feel they are. Asked what prompted her to date online, Karene gets contemplative for a moment. "Well, I was looking for a good man who will love and respect me," she replies. "Someone who will be honest. Someone who wanted to marry someday and also have children."
Asked the same question, Jason had this to say. "I was looking to settle down and marry," he tells us. "I needed a wonderful companion, someone who loves me for me."
Find your soulmate on InterracialDatingCentral










So they wanted the same things, but would they be right for each other? It took some time to figure that out…
First, Karene joined our site and posted a profile under the regal username "QueenRafari." We asked her if she was confident at the start. "I was," she answers. "I have been on other sites where I did date. But there was something about this site that made me believe it is possible to find a honest man."
Did Jason have the same degree of optimism at the outset? "I was skeptical," he admits. "It was my first time trying to find someone online."
The irony here is that Karene waited three years to find her special someone while Jason was only a member for three months before he met Karene. "Jason reached out to me," she recalls. Under the username "Samuri," Jason sent her more than one message — without response. "At first I ignored him, but then I realized he wasn't going to give up easy, so I started talking to him," laughs Karene. "The more we spoke, the more I realized it would be nice to meet him."
The reason Jason had to wear down her resistance was because his expression in the profile pic wasn't especially welcoming. "Jason's picture scared me at first, but it grew on me," confesses Karene. "It was mostly what he wrote that drew me to him." And what drew him to her? Exactly the opposite, Jason says. It was "Karene's picture" that hooked him! "She was my type, and more," he tells us. "Cute smile, looked great…"
The introductions and early back-and-forth led to a mutual desire to meet. As Karene remembers it, "We decided we weren't getting any younger. We both wanted to settle down, so we just decided it was time [to go out on a date]," she says. Still, Jason didn't exactly fit the profile of the guys she'd generally dated. "I normally like slim men, and he wasn't," says Karene. "He is pretty muscular! I didn't know what to expect because I've never dated men that size."
Despite the fact that Karene lived in Jamaica, Jason didn't have any trepidation about taking the next step and seeing each other in the real world. "I just knew I wanted to meet her," he says of his thought process. "She was different from most women I've met."
Jason booked a flight to Jamaica, where he stayed at the Hilton. He and Karene had their first date at the hotel bar. She remembers getting a good vibe from him right away. "He was a gentleman," she says. "Very funny, down to earth and sweet." She says that Jason's profile hadn't provided the whole picture of his personality. "I thought he was going to be a little more serious, but he was a sweetheart," Karene says.
Jason has happy memories of that night, too. "She made me smile a lot," he tells us. "And she was more beautiful in person!" He also liked that "she's very ambitious and loves traveling," as he does.
After that experience, both singles were certain they would see each other again. Even so, the distance between them posed a problem. The couple had to go back to "virtual dating" for awhile. "We lived worlds apart, so we just had to keep talking on the Internet until I flew out to meet his family," explains Karene. Jason nods. "The distance WAS great between us," he says, acknowledging the challenge this posed.
While that wouldn't stop them from seeing each other, they knew they couldn't fly back and forth forever. A solution to the quandary soon presented itself. "I knew one of us would have to move," Karene concedes. "I visited in 2012, after the death of my mom, to spend some time with him. He wanted me to stay in America but I was on a visitor's visa. So I said, 'well, we would have to marry for me to stay.' I guess he thought about it. The next day he said, 'well, we should go get married.' So we got married on my mom's birthday, to honor her. The rest is history!"
Pressed for details, Karene says the ceremony was small but satisfying. "I didn't have a big wedding. It was private, but really nice," she says. "I smiled all the way through! Don't get me wrong — I was scared because this is a big decision, and very serious. If I didn't love him, I would wait."
The couple probably tied the knot sooner than they would have otherwise, given Karene's visa situation. But they haven't looked back. "I don't regret it and he doesn't either," says Karene. "Now we are going to have a baby in 2015! We own a house together and we are very happy. I appreciate everything about him."
Has this relationship changed her life? "A lot," she says. "It's opened a lot of doors. Now I think of 'us,' not just 'me' anymore. Everything is 'us' now!" Jason has been pretty quiet — we want to know what's changed for him! "I am no longer a bachelor," he laughs. "I love my wife and she has opened my eyes to a lot of things."
The happy couple took a crack at helping our readers stay positive in their search. "Try to have an open mind," says Karene. "Who you want is not always who you will end up with." She also has some specific dating tips to share. "Make sure to always meet in a crowded place for dates. Also, don't meet at the movies; meet somewhere you can have lunch, and get to know each other," Karene recommends. "And don't expect too much from the first date!"
"Be yourself and never give up," Jason urges us. "Trust that all will work out."
His trust was rewarded. Long live "QueenRafari" and the "Samuri" at her side!
40 responses to "It Happened at the Hotel Bar"
Leave a reply
You must be logged in to post a comment.