His Stunt at the Movies Was 100% Real
Posted by Leticia, 22 Jan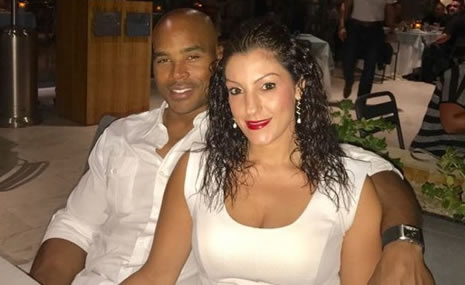 Angel thought dating in the real world was far from heavenly, so she ventured onto the Internet in search of love. "I was too busy with work for traditional dating," she explains. So she posted her profile on our site. "This was my first experience with online dating… I wasn't confident at first, but I quickly changed my mind."
Malak says he "wanted to try something different," so he signed up. "This was my first time with online dating," he reveals. "I was looking for friendship, and I found love!"
Find your soulmate on InterracialDatingCentral










Why did Angel's attitude shift so quickly? Because just one day into her membership, she spotted Malak's profile. He'd only been with us around two weeks, himself. Malak's "classy gentleman photos and nice bio" turned Angel's head, so she reached out…
Malak took a peek at Angel's profile. Interestingly, she wasn't the kind of gal he normally goes for. "Completely different from what I thought my type would be" is how he puts it now. Nonetheless, Malak liked what he saw. "Her bio was different from all the others," he explains. "It showed she understood relationships."
The duo conversed for some time before taking the next step. "After three weeks of talking, we decided we had an interest in each other," recalls Angel. Malak notes that their shared philosophy seemed like an important connection to make. "We had a lot in common in regards to our views on life," he says. He says he knew this relationship could be special "talking on the phone before we even met."
With sparks flying, a date was arranged and both singles turned up with eager optimism and big smiles. "We met for dinner at a casual pizza/wine bistro," Angel informs us. The first thought to race through her mind was, "WOW! He looks even better than his photos!" Malak remembers thinking, "She's not a catfish!"
Another relief was their instant rapport. "He was so open and easy to talk to," notes Angel. "Such a gentleman!" On the man's side of the equation, Malak felt mesmerized by "her big beautiful eyes." It was a great date and both parties put their certainty of having another one at 100%.
Getting to know each other, certain surprises created contrast with their dating profiles. Malak's listing didn't convey "how laid back he is, and how much of a family man he is," says Angel. Malak had no idea going in that "she is so self-sufficient, and she loves to cook." Before long Angel felt confident their pairing could be long-term. His "eureka!" moment came "in the middle of church service, on our third date!"
Despite some "past relationship baggage" to deal with, things got serious from there. Angel recounts one very memorable night: "We were at the movies. After the movie, he acted like he fell. I went to the floor to help him up and he popped the ring out!"
By now, Angel's answer should come as no surprise to you: YES! She says that finding love has been a game-changer for her. "My life is so peaceful now," she declares. "I finally found the perfect fit for me!" Malak makes a bold statement of his own. "I now know the difference between a female and a REAL woman," he says.
We asked Angel if she had any thoughts on Internet personals that she would share. "If you're looking for a real relationship, ignore all the people who approach you inappropriately, or become inappropriate before you are an exclusive couple," she tells us. "Ladies, don't share intimate photos of yourselves, because that just shows the man they are not special and you are doing that to every other man on the website. Be a LADY!"
"Look beyond the surface," advises Malak. "Not just photos and bios and comments."
One thing we know for certain – his relationship with Angel runs deep!
1 responses to "His Stunt at the Movies Was 100% Real"
Leave a reply
You must be logged in to post a comment.