Good Thing He Got a Subscription!
Posted by Leticia, 20 Apr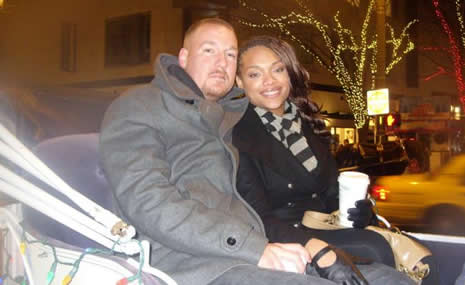 NkIruka had a toddler at home, so she didn't have a lot of opportunities to meet eligible men. That and the other benefits of online dating convinced her that if she were to find love, this was probably how it was going to happen. So she signed up for our site.
One day, she received a Flirt from Michael. Intrigued, she sent one back. But this love story almost ended there. Michael wasn't a paid subscriber to the site, so he couldn't exchange email or IM!
Find your soulmate on InterracialDatingCentral










Happily, Michael was intrigued enough by NkIruka's profile that the very next day, he ponied up the cash for a subscription and sent her a message. They learned that two states separated them, so they interacted via the site for two months before deciding to meet in person.
"I was kind of nervous when I picked him up from the airport," NkIruka remembers. "But I had been talking to him on the phone for so long that the nervousness quickly faded away!"
Michael had a confident, laid-back air about him, and a quick wit. "He didn't seem like he was trying to be anything but himself," NkIruka says. She also liked his looks. "I thought, 'man, he is FIIIINE!".
They spent New Year's Eve together and had a great time. After dating for some time, they began talking about NkIruka relocating to live in Michael's area in the near future. The couple's plans include marriage, children, and a happy life.
NkIruka says that Michael challenges her to be a better person. "He's honest and straight to the point," she says. "He makes me feel like I'm the most special woman he's ever been with. He's everything I've ever wanted or needed in a man!"
16 responses to "Good Thing He Got a Subscription!"
Leave a reply
You must be logged in to post a comment.