From Uncertain to Engaged
Posted by Leticia, 20 May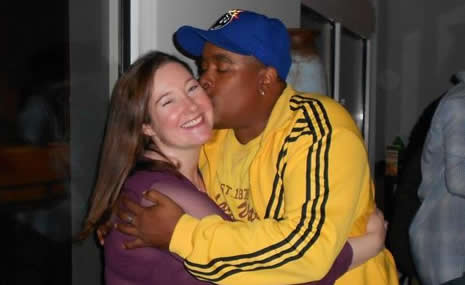 There are few overnight successes in the love business. Helen and Mickey can attest to that! "Based on my previous experiences, I was definitely not confident about finding love online, and I was ready to give up on the whole process," Mickey says candidly. "I had been on other dating sites and they did not match me with people to my satisfaction."
"I was definitely skeptical about the whole idea of finding love online," Helen says. "This was my first experience with online dating. I only tried [this site] because it was recommended to me by a friend!"
Find your soulmate on InterracialDatingCentral










Given his doubts about the personals process, it was just blind luck that led Mickey to our site at all. Blind luck, and his sharp eye. "I tried the site by accident," he says. "I saw an online ad for it, so I decided to give it a shot."
Helen stuck with us for quite a while before meeting the man she will soon marry. "I had been on and off for about two years before I met Mickey," she tells us. Mickey was a member for about half a year when he viewed Helen's profile. There was something very alluring about this woman, he thought. "I never believed that I had a type, but Helen is definitely everything I want to be with," he tells us.
Instantly intrigued, Mickey penned a true love letter to this mysterious lady. "Mickey wrote a really long email that was very humorous," Helen laughs. "It was not just the typical one liners that are usually sent. Mickey actually took the time to introduce himself, which I liked!"
As luck would have it, Mickey's travel plans included a trip to Helen's home—across the pond. He lived in Atlanta but had already lined up a soccer trip to the U.K. Helen explains, "Mickey was coming to England anyway, and that made it easy to set something up for our first date. I thought I might be in love with him before I even met him." Adds Mickey, "I knew I could not go there and not meet her! I had very strong feelings for her and couldn't wait to meet in person."
How'd the date go? This experience exceeded all expectations. "It was exciting," Helen reports. "We got along well and he was very cute!" Mickey's assessment was equally glowing. "Helen was beautiful, funny and smart. We had great chemistry. I was surprised at how easily we got along. There were no awkward moments."
For Helen, it was a happy surprise that there were no surprises. Mickey was very much the man his profile promised. "It was nice to see how Mickey was so much like what he portrayed online, and how well I felt I already knew him," she says. "Mickey's profile was spot on, but it was even more intriguing to be with him in person."
Mickey felt the same way. "Even though Helen's profile was accurate and genuine, she was even better to be with in person. We have a great rapport."
With their connection passing its first test, the singles' spirits were sky high. Maybe this online dating thing wasn't so bad, after all! The question was, would they go out again? "I was as sure as one can be, after a good first date," Helen responds. "I was positive we would go out again," declares Mickey. "Things went very well."
So well, in fact, that Mickey and Helen's romance soon grew by leaps and bounds. An unforgettable moment that would change their lives forever started innocently enough. Over coffee! A very happy Mickey tells the tale…
"It was casual. We didn't want a big production. I simply asked her while having coffee if she would marry me. She said 'yes.' Not very climactic or thought provoking, but the smile and the reaction were priceless!"
Helen was delighted at Mickey's proposal and has no concern over the commitment involved. "Mickey has all the qualities I want in a spouse, plus some other ones that shall remain secret!" she laughs.
What's next for our wonder couple? Mickey says he is "full of excitement about the future. We're planning a great life together." He's amazed at how much has changed since he joined our site. "I am moving to England to be with Helen, so it has changed my life for the better in a gigantic way."
At times, singles turn cynical after a series of setbacks in their love lives. Helen counsels us to remain positive no matter what. "Internet dating can be overwhelming and scary, but if you keep your wits about you, things can go very well," she says. "You have to be careful and patient about who you strike up a relationship with. Don't be swept off your feet by the first person who comes along."
Mickey agrees with that. "Listen to your intuition. If there are warning flags about an individual, don't ignore them. It is not a race to find someone! Hopefully, the right one will come along."
When the right one hits your radar, you'll still have to stand out from the competition or your message may be overlooked. Remember, Mickey's funny email to Helen broke the ice before she knew they were so well suited for each other. "Make sure to be humorous, and take the time to tell people about yourself," adds Mickey.
Mickey's email was long, but there's nothing wrong with short and sweet, either. Just try to make a funny reference to the other person's profile, say something about yourself that makes you a good match for one another, and ask a question that will be fun to answer. Odds are, you'll get a response. And you just might meet your betrothed!
52 responses to "From Uncertain to Engaged"
Leave a reply
You must be logged in to post a comment.