Five Days Were Enough
Posted by Leticia, 30 Mar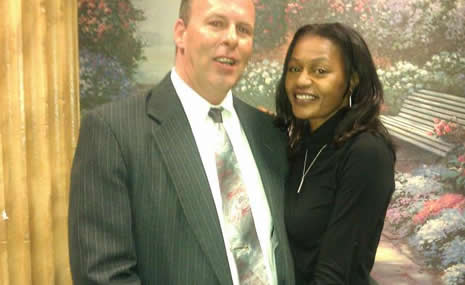 Richard had heard the success stories of sites like ours, and nothing else was working for him in his quest for true love.  Why not give it a try?
Running a search on our site, Richard's eye was drawn to the first profile that came up.  There was something about Suzette that seemed special to him.  When he reached out to her, Suzette checked out Richard's profile.  She liked what she saw.  "I thought, 'How handsome!'" Suzette recalls.  "I decided to follow through with this one."
Find your soulmate on InterracialDatingCentral










She sent him a note indicating she'd like to talk.  Richard replied with his contact info and an invitation to call him anytime.  When Suzette phoned, it didn't feel like their first conversation; it was more like two old friends catching up.  "We never hung up the phone," Suzette says.  "It was like an instant connection.  We had so much in common!"
When Richard came home from work at night, he would talk to Suzette on the phone until they fell asleep.  It was clear that these two needed to meet in person.  Richard sent Suzette a plane ticket.
The moment that Suzette stepped off the plane in Columbus, OH, she found a certain gentleman waiting for her with flowers in hand.  "My first impression?  He was tall and handsome, with a gentle smile," Suzette says.  Richard thought Suzette was as beautiful in person as he'd imagined her on the phone.  Over dinner, the couple felt that elusive chemistry only an in-person meeting can put to the test.
After spending five days with Suzette, Richard proposed.  She gladly accepted.  "I have not left his sight since I came to Columbus," Suzette says.  "We plan to live happily ever after!"
The wedding took place on January 25, 2011.  Richard couldn't be happier with the results of his decision to date online.  "She is everything I could ever dream of, and my best friend," he says.  Suzette can't believe her good fortune, either.  "He's the man I thought didn't exist," she marvels.  "He is so wonderful!  I am blessed."
183 responses to "Five Days Were Enough"
Leave a reply
You must be logged in to post a comment.