Under the Eiffel Tower
Posted by Leticia, 14 Nov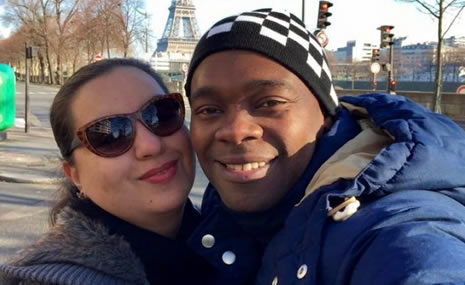 Tania had never tried online dating before. "A friend of mine asked me to try," she admits. "This was my first time!" And she had her doubts… "I was not too confident," Tania tells us. Still, she signed up as "TANYAOP."
Someone was encouraging Eric, too. "It was recommended by a friend at the gym," he says of our site. This was also his first time, but he really wasn't too worried. He had always been confident "that love can be encountered virtually or in reality." His online moniker with us was "Eric-Roger."
Find your soulmate on InterracialDatingCentral










Both of them were a few months in when Eric found Tania's profile. Her pictures intrigued him, so he wrote to her. And waited.
And waited.
And waited.
But Eric is nothing if not a patient man. He laughs and says that, finally, FINALLY, "she replied a couple of months later!"
What was it about him that caught Tania's interest (eventually)? "His smile," she says. When she got around to responding she was happy to find him still interested. "We spoke and chatted [online] for a long time," Tania says. Eric quickly points out, "We learned we were compatible while chatting."
So where did they meet for their very first date? Only in Paris, the most romantic city in the world! At their first face-to-face meeting at the CDG airport, Eric took one look at Tania and thought, "OMG, she's even better than in her pictures!"
Tania was equally delighted, thinking to herself, "He is so handsome!"
During their date Tania also came to realize that Eric was, indeed, a very patient man. She thought she had a particular "type" before they met, but he turned out to be so much more than she expected. After this romantic interlude in Paris she was "very, very sure" that the two of them would go out again.
Eric was equally positive in his outlook. He was also pleased to discover something about Tania that hadn't come across in her profile. "Her gentleness," is how he describes it now.
They had some obstacles to overcome on the way to love, however. Tania sighs. "His ex was a problem." Eric nods ruefully. "And her mom had some objections." But it didn't matter.
Eric proposed! Tania glows with happiness as she tells the story. It happened "under the Eiffel Tower after midnight on New Year's Eve, 2014. He asked me if I wanted to marry him." She said yes, adding, "I'm ready!"
Eric's patience paid off for both of them. "She gives me a new reason to live," he says, overcome with emotion.
They now have some advice for online daters. Says Tania, "Be truthful and maintain communication."
Eric's tips? "Pray to God. And be patient."
Having your first date in Paris probably doesn't hurt, either!
3 responses to "Under the Eiffel Tower"
Leave a reply
You must be logged in to post a comment.