Two Years, No Arguments
Posted by Leticia, 17 Sep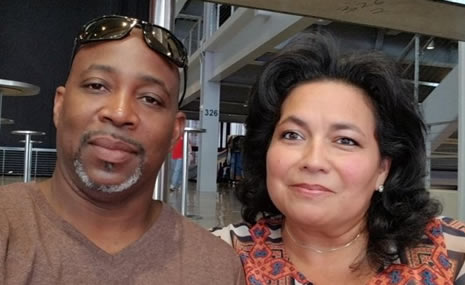 "His interests were very similar to mine," Lydia says of Gordon ("FunOne9"), whose profile stood out on our site. "I reached out first, by instant message," she explains. At that point, they had both been members for a couple of months.
Reviewing her profile, Gordon thought "Beautican" was a kindred spirit and "pretty similar" to his type up till now. "I liked her interests as well," he tells us. So they began chatting, laughing and bonding. "After talking to her over the phone for just two or three weeks I felt like I'd known her for years," says Gordon. "I fell for her pretty fast! And I was ready to meet someone who was possibly my future wife."
Find your soulmate on InterracialDatingCentral










Their early interactions were just as intriguing for Lydia. What convinced her that they should put down their devices and meet in person was "how well we clicked together," she says. "We talked every day – almost every moment we weren't working or sleeping – for 2–3 weeks. I too felt like we had known one another for years."
The next step was figuring out what to do on their first date. "Because this was new to me I didn't want anything fancy," says Lydia. "My main thing was it should be in public, with a crowd." That's a good first Internet date precaution, and Gordon respected her wishes. "She didn't want anything fancy, so we met at a Mexican restaurant," he informs us.
The fella who walked through the door was easy on the eyes. "He was good looking," Lydia remembers thinking of Gordon. She had the same effect on him. But that wasn't all… "He told me that after talking to me for a couple of weeks straight he felt like he was falling in love with me," Lydia says. "I surprised her with what I told her," laughs Gordon. "I wasn't really surprised about anything the first time we met."
Both singles say they were "100% certain" they'd go on another date. After the second meeting, they quickly lost count and a full-fledged relationship sprang into being. Lydia says she appreciates her partner's "respect for me" and Gordon notes that with Lydia there was truth in advertising. "I appreciated that she was everything her profile described," he says.
The path ahead was pretty smooth, the couple reveals. "There really weren't any obstacles to overcome," Lydia muses. "After a couple of months, and feeling like we'd known each other for a long time – in a good way – we both believed we were good together. In our two years of being together, we've never really had a heated argument!"
Each of them had a memorable moment when they realized that what they felt for the other person was a powerful love. Lydia says, "I was home talking to my youngest daughter and got emotional telling her my feelings were getting heavy for this man!" She notes that it was also very meaningful when Gordon made a statement about his intentions. "He told me he was going to protect me and my daughter," she shares, getting a little teary-eyed at the thought.
For Gordon, his big realization came on another occasion. "I was at work and had just talked to her on the phone," he recalls. "She told me she loved me back."
With their feelings firmly established, the time came to take the next step. Lydia recounts the story. "He's a truck driver, and when he's home and not on the road, I run home on my lunch break to go see him and spend a little time with him. He got on his knee and said something sweet to me, and proposed!"
Finding Lydia has been transformative for Gordon. "It's changed my life because I am now experiencing unconditional love, and I believe it's because of the love of Christ in her."
Being together sure suits Lydia, too. "I was happy before I met Gordon, but I am happier with him," she declares. "I left a marriage of 28 years, and the last 10 of those years were off-and-on hell. Gordon's love for me has boosted how I have needed to love myself. His love for me is peaceful."
We hope they have many happy, peaceful years together.
14 responses to "Two Years, No Arguments"
Leave a reply
You must be logged in to post a comment.