Their First Hug Happened at Nairobi Airport
Posted by Leticia, 16 Oct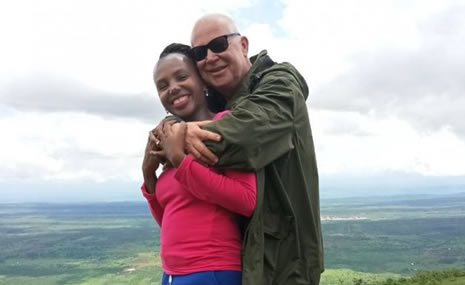 Now engaged, not so long ago Joyce and Jens met on our site. "I was hoping to find Mr. Right," Joyce says of her decision to partake in online dating. She was "not at all" confident she'd meet a keeper, though. Jens was on exactly the same page. A month after signing up, he spotted Joyce's brand-new profile.
"Her pic sparked my interest," Jens tells us, "and the fact that she seemed like a warmhearted person." He says she was "quite similar" to his type. Flirts were exchanged and engaging conversations were had. Joyce reveals what it was about Jens' profile that spoke to her: it was a great photo and a welcoming energy.
Find your soulmate on InterracialDatingCentral










Joyce lived in Nairobi, Kenya and Jens hailed from Hamburg, Germany. So what made them decide they were ready to meet for a date? As Joyce puts it, "When we started to chat and to phone, there was a wonderful connection immediately!" Jens agrees emphatically. "I knew from the first moment of chatting that she was the one I was looking for."
Jens made the journey from Germany to Kenya so he could meet this woman in the real world. In their first in-person greeting, the duo shared a warm hug at a Nairobi Airport arrivals gate. "He's the one," Joyce remembers thinking at that moment, along with, "He is SO tall!"
Jens was relieved that what he'd felt about Joyce up to this point proved to be real. After their time together both were fully certain this new romance would continue. "He proposed the second day we met," exclaims Joyce. "I'm really happy!"
For those of us who haven't found a fiancé yet, the new couple advises patience. "Never give up," says Jens.
Your own whirlwind romance may be a few mouse-clicks away.
26 responses to "Their First Hug Happened at Nairobi Airport"
Leave a reply
You must be logged in to post a comment.