She thought she was too busy to look for love
Posted by Leticia, 24 May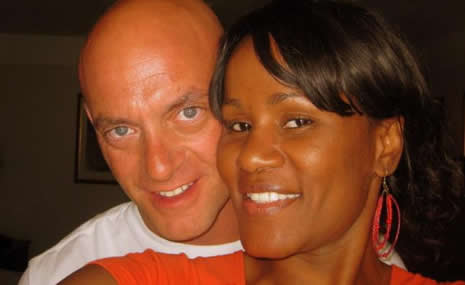 Jessie was a very busy single mother. Working 12-hour shifts as a nurse while going to school on the side doesn't offer a lot of opportunities for dating! She wasn't meeting many eligible guys in the course of her day, so Jessie decided to give Internet dating a shot.
It all started the week before Valentine's Day, when Joe sent Jessie a flirt on the site. She didn't respond immediately, but she liked what she saw on his profile. Joe indicated that he was looking to meet women between the ages of 30 and 40. "That told me he was serious and ready for commitment," notes Jessie. "He wasn't looking for some 18-year-old arm candy!"
Find your soulmate on InterracialDatingCentral










The next time Jessie was online, she saw that Joe was too and... invited him to chat. That went well and Joe gave her his phone number. They chatted again and two days later—on Valentine's Day—Jessie made the call. It was a great conversation, but soon thereafter Jessie was leaving to go on vacation in Africa. Without hesitation, Joe added international calling to his phone plan so they could talk during the three weeks Jessie was out of the country.
It wasn't until the middle of March that Joe and Jessie went on their first date. She could tell from the moment they met that Joe might be a keeper. "I thought he looked exactly like his pictures, which was a relief," she recalls. "He looked so sexy, his eyes were so dreamy, and he was unpretentious. The answers to the questions I had for him were on point, uncensored and genuine."
After enjoying a scenic drive, they stopped to share pizza and wine at a small cafe. Sitting outside, Jessie and Joe were surrounded by passerby on the sidewalk and cars on the street, but all the hustle and bustle seemed to disappear around them. "We were in a zone," says Jessie. "Everything seemed to stop and all I could see or hear was Joe."
The couple couldn't shake the feeling that they had somehow met each other before—they felt just that comfortable together. Both are into the outdoors, photography and travel but more importantly, they found their core principles aligned.
The night ended with dinner at a cozy Mexican restaurant. "The conversation, the mood, and the company were just right," says Jessie. "As he dropped me off that evening, I knew he was the one."
Their date had lasted nearly eight hours, but for Jessie and Joe, it seemed like no time at all. They are now seeing each other exclusively and talking about making a lifelong commitment. "Joe is warm, genuine, open...He has a big heart," Jessie says of her man. "He makes me feel like a princess!"
So, no matter how busy you are, save room in your life for love—it might be waiting for you here, right now…
37 responses to "She thought she was too busy to look for love"
Leave a reply
You must be logged in to post a comment.