Miles mean nothing with the right match
Posted by Leticia, 06 Apr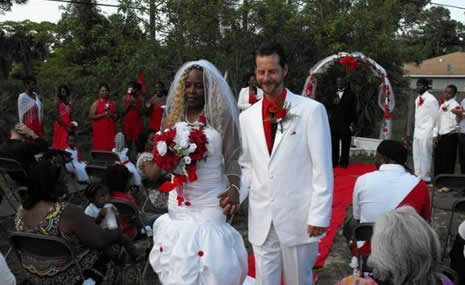 After dating online for four years without meeting Mr. Right, Liz wondered if she would have to give up on love.  She certainly didn't think the nice guy she was now chatting with online could be the one for her.  It wasn't that Willy wasn't great… But the geographical challenges this couple faced could not have been more daunting.  Liz lived in Florida and Willy in the Netherlands.  It's difficult to imagine a relationship being more "long distance" than this one.
Find your soulmate on InterracialDatingCentral










"I thought nothing would really come of it because he lived so far away, and neither of us had a lot of money."  Liz remembers.  "But we had the same goals in life, so he gave up everything for me and moved to Florida!  We are so in love."
The couple is now married.  Their determination to fulfil the promise of happiness they saw together overcame all obstacles, and now these two are enjoying the rewards of love.  "Thanks for this site!" Liz says.  "Without it, we would never have found each other."
29 responses to "Miles mean nothing with the right match"
Leave a reply
You must be logged in to post a comment.