Intercontinental Connection
Posted by Leticia, 29 May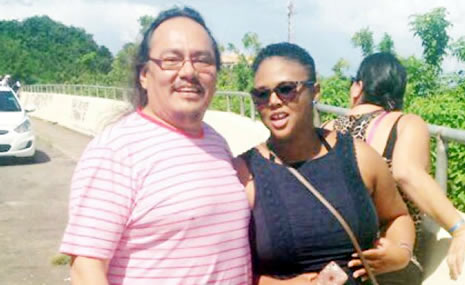 Peecho and Claude are now engaged, but their courtship began with a modest little Flirt. "I was looking for a true life partner," explains Peecho of her choice to join our site and send that Flirt. Though she wasn't confident, it took her less than a month to find Claude. "His profile was short and got straight to the point," Peecho says. This appealed to her.
Claude signed up because, quite frankly, he was "looking for a wife." This was his first experience online, and yet it took only one week to meet Peecho. "She caught my eye the first time I saw the profile," he remembers. "I just stopped right there."
Find your soulmate on InterracialDatingCentral










They quickly progressed to the point of meeting in person. "Everything was just too perfect," gushes Peecho. "The phone calls and chats were amazing!" Claude couldn't agree more. "She was the one-in-a-million woman I'd been looking for. We decided to meet up and see where it led us."
They decided to do it up on Date No. 1 – they would vacation in another country together. "We went to Jamaica on holiday," Claude reveals. The first time he laid eyes on Peecho in real life will linger with him. "She stole my heart at the airport," he laughs. "Her sense of humor and pure beauty" stood out from the start of their time together, Claude tells us. "Her voice was amazing, let alone her looks."
Peecho was blown away by Claude's warm expression when they first met. "The smile just killed me," she says. "The first hug felt like we'd known each other for ages! And the kiss! Oh!" She was confident she'd found a keeper in Claude. "He was what I've been looking for, for ages. From the first date, I was very certain that I had a life partner."
Claude was equally certain this was the culmination of his search for a lasting partnership. "I knew I got a wife in her! She is an amazing woman of great character." He adds that the special qualities she possesses did not necessarily translate in her dating profile, namely, "her intelligence and way of thinking," attributes he values very much. Peecho says Claude's profile didn't prepare her for "his sense of humor, and his smile."
The couple came to discover how much they have in common. "We have the same likes and similar tastes," observes Peecho. Claude knew he found a match when he learned about "her way of looking at life," adding, "she is always ahead of things." Also, the advice she offers him helps him make better decisions in life.
There was a downside to this pairing, however – geography did not work in their favor. "Distance was a major problem," confesses Peecho, and Claude nods emphatically. "I was in Canada." Peecho puts in, "I was in Africa!" These continents are not adjacent. But the pair agreed that they needed to spend their lives together, as husband and wife. "He proposed at the beach," Peecho informs us. "Montego Bay!"
The reason they'd relocate is the depth and quality of their feelings for one another. "I am the happiest woman alive, and Claude is the reason I am happy," declares Peecho. "I just adore him!" Claude says, "She is my everything! A woman God sent me, with rare-to-find character."
Here are the couple's thoughts on Internet personals, and love. "When something is yours, it will come to you," says Peecho. "Patience is a virtue. Being true to oneself, and maintain your openness, are the way to go!" Claude's contribution is, "All I can say is, follow your heart, and just live. Good things come to those who wait!"
Peecho and Claude didn't have to wait long, but any single would search a lot longer to find a relationship as special as theirs.
4 responses to "Intercontinental Connection"
Leave a reply
You must be logged in to post a comment.