Her Family and Friends Didn't Want Her to Go
Posted by Leticia, 20 Mar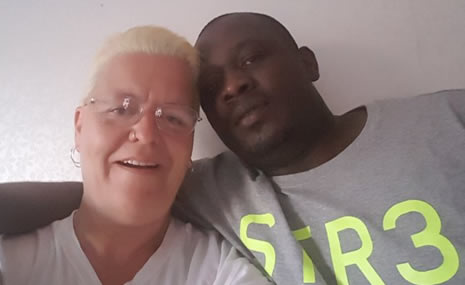 "I wanted to find my true love," Ulrika says of her decision to give our site a shot. "My friend told me to try your site, and I found my husband!"
We asked Maurice (Ulrika's husband) what made him try out the service. "I wanted to find love," is his response. "My friends told me about your site." Here's how he gauged his confidence in the ability of Internet dating to introduce him to someone special: "Not much." Still, it took him just a month on the site to hear from Ulrika, who'd only been with us a month longer than that. There was a lot to like... "She looked like a serious person and I wanted to get to know her better."
Your perfect partner could be online right now...
What are you looking for?
What was the attraction for her? "He was beautiful!" Given the immediate interest, she felt, Ulrika, did not hesitate to contact Maurice via email. Then they talked on Kik. Their interactions were smooth and enjoyable, so the duo decided to take the next step and try this pairing out in person. "When we talked on Skype every day, I knew it was serious and I felt in my heart that he was the man for me," says Ulrika. Maurice feels the same way. "She was definitely right for me!"
"In Cameroon, we went to meet his family," relates Ulrika. "My family and friends did not want me to go." Fortunately, she followed her heart. Maurice says he was happily surprised that she would come to see him in his country. "I met her at the airport in Douala, and we went to my mom's."
Ulrika definitely lived up to Maurice's expectations. "She was the same person I had talked to all this time, and she was my love." She tells us, "He was so nice! I knew he was the One." The duo didn't hesitate to tie the knot. "We got married the first time we met," says Ulrika. "It was like a dream come true."
Finding love has changed this man. "It made me be a man," says Maurice. Ulrika has grown as a person, too. "I am more respectful and I want him to feel how much he means to me." She advises the singles on our site to "take the time to get to know each other, but listen to your heart." Maurice says, "Be patient, and live by your feelings."
12 responses to "Her Family and Friends Didn't Want Her to Go"
Leave a reply
You must be logged in to post a comment.