An Epiphany
Posted by Leticia, 30 Dec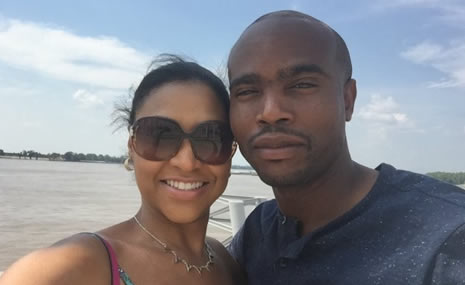 One day, two members of our site met online. It all began when "BJack11" sent "PrettyRN0714" a Flirt… "I purchased a membership to respond to the Flirt," says LaTanya, the gal whose profile handle was PrettyRN. "We exchanged brief pleasantries and then exchanged phone numbers shortly after."
Brandon (BJack11) had put together an austere but intriguing profile. LaTanya says she found it "very simplistic and vague; mysterious in a way." Perusing her profile, Brandon thought that LaTanya was more direct in what she wrote. "You can see her personality in black and white," he observes. "She spelled out everything she wanted in a man."
Find your soulmate on InterracialDatingCentral










With him, LaTanya liked what she saw. "He's totally my type: handsome, a gentleman, educated." Brandon's reaction was "very similar," he tells us, noting that LaTanya's profile told him that this woman was "educated and classy."
What was it that led LaTanya to pursue this particular avenue in her search for love? "I was persuaded by friends/co-workers to try online dating," she informs us. "Initially I joined one other site that I found to be overwhelming, and I deleted my account shortly after joining."
So she signed up here. Turns out we were the first Internet personals site Brandon had used. "I tried it on a whim," he says. "Never in a million years would I have thought I'd find love online!"
"I was very skeptical and pessimistic," LaTanya agrees. And yet they signed up at around the same time and were only members for two weeks before connecting. "The phone conversation just flowed really well, and meeting in person was naturally the next step," recalls La Tanya.
Brandon was ready to meet, too. "The level of 'comfortability' was there, and I wanted to put a face to the profile," he elaborates.
So arrangements were made and Date Night soon arrived. "We met at a restaurant in my city — Baton Rouge, Louisiana," LaTanya informs us. She thought her date was "very handsome, shorter than I expected, and a true gentleman."
Brandon quickly got a read on LaTanya and her personality. "She's very lady-like, prissy, and a snob," he laughs. None of that was a strike against her, though. What surprised them most about their first date was "how comfortable the interaction was." Both singles report being "100% sure" they'd go out again.
Still, they might not have done that if Brandon hadn't followed up. "He was very persistent," concedes LaTanya. There was no letting this slip through the cracks. And why was Brandon so devoted to her? "She's extremely honest and compassionate," he says.
While they want to make it work, the couple is "still facing an obstacle: distance from one another," as LaTanya puts it. Brandon nods, indicating that "distance and the fact that she has children" were challenges for him.
All those difficulties faded away for LaTanya, all at once… "I had an epiphany one night after getting off the phone," she remembers. "His persistence, reassurance, and accessibility sold me on the relationship."
It was a no-brainer for Brandon. He wanted to make this work. "She was everything I always wanted in a woman, and I felt like she was Heaven sent," he tells us earnestly.
LaTanya has no regrets. "I wake up every day happy and looking forward to the future," she smiles. Brandon can relate to that. "According to my co-workers, I'm happier in my daily life, and I now work with a purpose to provide for my future family."
Here are their suggestions for singles on the hunt for love. "Be patient," begins LaTanya. "Chat for a while until you're comfortable enough to exchange phone numbers. Make sure that his efforts match yours. Don't settle. Be yourself, and not a representation of yourself."
Brandon's on board with all that. "Be patient. Look at the online dating world like the real world; you may converse with four people and only be compatible with one. It's not speed dating! Take a chance. Make sure there is substance behind the look and profile. Be genuine."
Theirs is a genuine love affair, that's for sure!
2 responses to "An Epiphany"
Leave a reply
You must be logged in to post a comment.