"All Will Be Okay"
Posted by Leticia, 01 Dec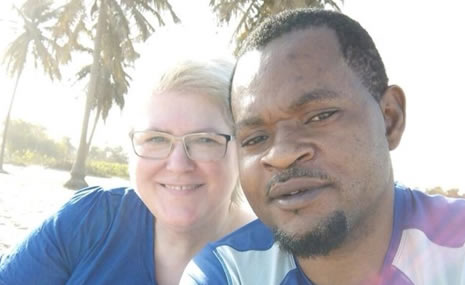 "Some friends of mine found love online, so I was confident," Sunny says of his decision to post a profile on our site. "It was my first experience with online dating," he admits. "I wanted to find the woman of my heart."
That woman was Anke. Prior to purchasing a membership, she too felt genuinely optimistic about her prospects for finding love. "I knew it could happen," Anke proclaims. "It was my first experience with an international dating site. I wanted to be true to my cosmopolitan nature."
Find your soulmate on InterracialDatingCentral










Things happened quickly for these two. Sunny was still in his first month with us when he noticed a new member (Anke) pop up on the site. "The text and her photos" were so appealing that Sunny didn't mess around. Two days into her membership she received a message from him. Sunny tells us, "I was keen to meet her!"
Anke thought that Sunny's message stood out. "At that time I had a lot of interest in me, but the way he wrote instantly caught my attention," she remembers. Thanks to Sunny's engaging intro, Anke focused on him in her early interactions on the site. And Sunny didn't disappoint. Anke says of her decision to move ahead and meet him in real life, "I felt it was love."
To make that happen, however, air travel would be involved. In this case, it was the lady who came to see the gentleman. "We met in the Gambia (Africa), where I live," explains Sunny. To elaborate on their circumstances, Anke adds, "I traveled there and stayed three weeks. My first thought was, "That's him, the one I have waited for!'"
For Sunny, the moment felt too big for him, at first. "I was too excited," he reveals, "But when I saw her, all went quiet and I thought, 'all will be okay.'" Anke was truly impressed by Sunny. "His profile was good, but the reality exceeded my expectations by far."
We asked the couple if anything about their first date felt unexpected, or didn't go as planned. "There were actually no surprises," laughs Anke, and Sunny confirms this. "[In her profile] she made a great effort to describe her personality well, so I kind of knew her [already]." They must have known their first meeting would go exceptionally well because some major developments took place during this time. "I proposed to her during that holiday and we got engaged," Sunny tells us. "She is the kind of woman I always dreamt of."
To accept his proposal during their first in-person meeting, Anke must have been sure they were meant to be together. "Oh, I knew he was the one," she declares. "He is exactly as I thought!" So how did this huge moment happen? "We had a little gathering with his friends in a club," Anke describes. "He went on his knees and proposed to me, and then he gave me a ring. It was all very romantic."
Sounds like it! Of course, even if these two were certain they should be together, that doesn't mean everyone in their lives was on board with them getting married. Anke says that there were obstacles, at least on her side. "Prejudices from friends and family on my side, because of the age difference (I am 14 years older) and a different color."
They didn't let the attitudes of others stop them. "We got married a couple of months back," Anke says proudly. "For now we still live apart from each other, but we started a business together so that living together in Africa will become viable. Sunny is my partner, my soulmate and my friend. Life without him in it is not imaginable anymore."
Very touching words and Sunny has some equally romantic thoughts to share. "She is my queen, my light, my blessing."
Speaking of thoughts to share, here's what Anke wants singles to know. "I think one needs to be openminded and free of prejudices, trusting that what is meant to be will be. Listen to your intuition and when it feels right, go for it!"
Sunny is cognizant of the challenges that men like him face when trying to date online. "It is more difficult than for a woman because there are more men searching than women. Do not give up hope! Have faith, and when you find 'the One,' give it your best shot. Always be honest and reliable."
11 responses to ""All Will Be Okay""
Leave a reply
You must be logged in to post a comment.