This Date Didn't End in Disaster
Posted by Leticia, 03 Apr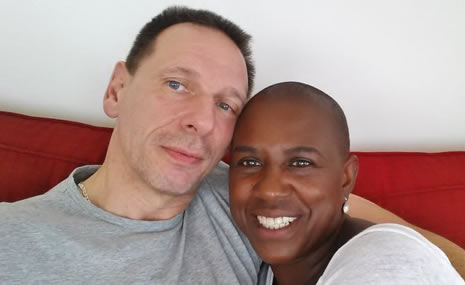 "I had tried different sites," says Aurelia of her online dating experience. Though to her the idea of meeting someone special seemed like a 50/50 proposition, she didn't think she had much choice. "I work in a female environment, long hours, and don't go out very often," she tells us.
Robert was no stranger to Internet personals. He was drawn to this because, as he put it, "I didn't find my soulmate in my homeland. I didn't really believe it [could work] because every date went wrong or ended in a disaster."
Find your soulmate on InterracialDatingCentral










That doesn't sound good, but after a few months on our site, his luck turned around. That's when Aurelia and Robert crossed paths. Asked what stood out about Aurelia's profile (username: "Mia50"), Robert says "her shaved head," "beautiful face" and "unbelievably romantic [nature]" seized his attention. Using the screen name "Dragonhearts," Robert sent her a Flirt. She replied with "yes, I'm interested" and he purchased a premium membership so he could send her a more substantive message.
As their interactions were smooth and enjoyable, the duo decided to take the next step and try this out in person. "The chemistry was so amazing," says Robert. "I wanted to get to know her." So Aurelia hopped on a plane. "I picked her up at the airport and we went out for dinner," Robert relays. His first thought upon seeing her? "OMG, she is so beautiful!"
For Robert, the most surprising thing about their first date was that "we felt so close, so familiar… It was incredible." And how confident was he that they'd see each other a second time? "100%!" During a walk in the park, holding hands, Robert felt as though he'd known Aurelia for a long time.
However, every relationship faces a degree of challenge, which tests partners' commitment to one another. "Flying 1000 kilometers [is a challenge]," notes Robert, "as was finding a good time for the trip."
This didn't deter them, obviously. As Robert got to know Aurelia better, he was happy to discover that her profile didn't paint the whole picture. What it failed to convey was that "she is so loving and caring, bold, and a little bit jealous," in a way that makes him feel cherished and valued. The more time they spent together, the more he began to realize this match could be spot-on. "She exceeded all my expectations," he says.
The couple has been impacted in ways great and small, but for Robert, the biggest change has been in his quality of life. As the lucky guy declares, filled with enthusiasm, "I'm not lonely anymore, and I'm totally happy!"
Here are Robert's words of encouragement for the many fellas out there who are still searching for an Aurelia of their own. "Don't be afraid to contact the woman who enchants you. Try to get to know her before you meet." Aurelia chimes in with, "Don't be too expectant, and give each other enough time to find out if you match."
Looks like this match has been made.
5 responses to "This Date Didn't End in Disaster"
Leave a reply
You must be logged in to post a comment.