Hold That Tiger
Posted by Leticia, 31 Jul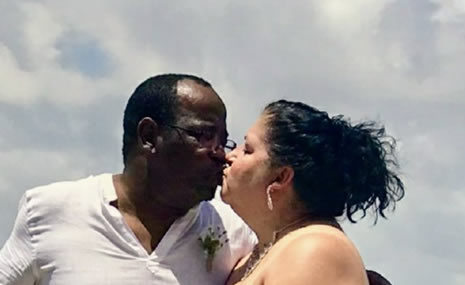 They say you should never catch a tiger by the tail, but it's good that James caught the eye of "LadyTiger27." She posted her profile on our site because she "didn't care for going out and meeting people," adding that she finds it "kinda' scary. And I liked this site 'cause it was easy."
James was here because online dating offered "accessibility to more people." We were his first try, and he wasn't confident about it. "Just thought I'd take a chance," he admits.
Find your soulmate on InterracialDatingCentral










Well, five years later he heard from Cauleen, aka LadyTiger27. A new member – she'd been with us less than week – Cauleen sent James a Flirt. Based on what she was looking for, James was "right on target." Her interest stemmed from his dedicated approach to his dating profile. "James appeared to be looking for a serious relationship," she explains. "He came off to me as being very sincere."
When he took a gander at Cauleen's posting, James had a positive initial impression. "She was sincere, and very pretty," he recalls. "And she was looking for the same things as me, as far as a serious relationship goes."
Those are good signs. Before long, these two had hatched a plan to see each other in real life. "We had spoken on the phone for four days, and we felt it was time to meet," Cauleen informs us. James didn't hesitate to take the next step, saying, "We had talked all week and I wanted to meet in person."
So Cauleen hopped in her car and hit the road. "I met him at Wounded Warriors and then we went to Eagle Pass Casino in El Paso," Cauleen notes nostalgically. Her first thought on seeing James in person was, "Wow! How handsome and tall…" This was not a one-sided attraction, either. "She was beautiful!" James exclaims. Both singles were "very sure" they wanted to do this again. And soon.
Now that they're officially an item, Cauleen says she's surprised at "how funny he can be," based on the seriousness of James' profile. James really appreciates how attentive to his needs his partner can be. "She was what I was looking for," he adds.
They weren't faced with the smoothest path to happily ever after, however. "We were both in the middle of divorces," says Cauleen. But it really didn't take long for them to know it was all worth it. For her, the moment of certainty came on their second date. James relays the unlikely circumstances involved. "I asked her to go with me to my cousin's funeral," he says. It went well, and he too knew then that their connection could be special.
Building on their mutual love and appreciation, another big moment came along soon enough. "Well, we're sitting at the casino, and the divorce was final, and I asked if we could get married," Cauleen recounts, laughing. "But he still says that I didn't propose!"
Whatever the particulars of their engagement, love has changed Cauleen's life. "He completes me. He is my best friend, partner in crime and husband." James is moved by the mere thought of what Cauleen means to him. "She has given me love, and the family I have always wanted," he says.
For all the folks out there who are in need of a soulmate of their very own, Cauleen offers this counsel. "Don't give up. Always be honest. And just have fun!" James adds the imperatives "don't be fake. Be honest and patient."
His patience paid off, and now he has a tiger in his corner – for life.
Responses to "Hold That Tiger"
Be the first to leave a comment
You must be logged in to post a comment.